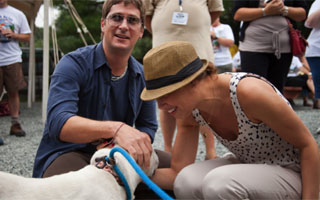 Local animal rescue and sanctuary Pets Alive has been awarded an $80,000 donation from Sidewalk Angels Foundation, a New York-based, not-for-profit organization founded in 2003 by Grammy Award Winning Artist Rob Thomas and his wife Marisol Thomas. The donation is in support of Pets Alive's mission to rescue, rehabilitate and rehome animals in need.
Pets Alive is one of the oldest and largest no kill animal rescue and advocacy organizations in the United States, operating two facilities that serve to rescue, rehabilitate and find loving homes for dogs, cats, rabbits, and farm animals. Pets Alive will use the donation to care for the hundreds of animals within their two sanctuaries located in Middletown and Elmsford, NY. In 2014, Pets Alive saved 1,405 cats, dogs and farm animals from life-threatening circumstances, and they found forever homes for 1,472 animals.
"We are a private organization and rely solely on the generosity of individuals and organizations who support our life-saving work," said Jenessa Cutler, Chief Financial Officer of Pets Alive. "This incredible gift will be used to fund our various adoption, enrichment, and rescue programs. We are so grateful to the Thomas' and Sidewalk Angels Foundation for their continued faith and support of Pets Alive."
Sidewalk Angels Foundation is dedicated to providing critically needed funds and support to grassroots groups across the country. It is the primary supporter and sponsor of a number of no-kill animal shelters and animal rescues, reflecting the passion of the foundation's co-founders to fight for the rights and fair treatment of those with no voice. Additionally, the foundation also supports a myriad of other causes, from childhood health and wellness to the fight against homelessness. Since its inception the foundation has raised over a million dollars and helped many organizations in need.
"Sidewalk Angels is proud to support Pets Alive and the thousands of animals they rescue," said Marisol Thomas. "Rob and I are honored to be involved with such a wonderful organization and to provide much needed financial support through the foundation."