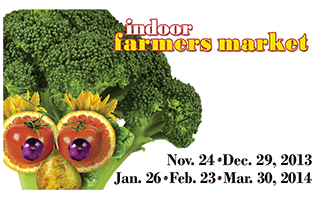 Beginning November 24th, Westchester residents will be able to buy farm-fresh local produce, cheeses and other dairy products, meats, baked goods and wine directly from farmers and producers at the indoor Farmers Market, to be held on the last Sunday of each month from November through March, at the Westchester County Center in White Plains.
Dates are Sundays, Nov. 24 and Dec. 29, 2013, and Jan. 26, Feb. 23 and March 30, 2014. Hours are 10 a.m. to 3 p.m.
This year's market will consist of a variety of vendors who are farmers and food producers, all from the tri-state area. And, to tempt shoppers and to help them make selections, vendors will offer samples of their foods.
To add to the fun, each month will feature live entertainment provided by local musicians from the Hudson Valley and surrounding area. November's market performers will be Bob and Norm, a musical duo featuring Bob Goetz (bass and vocals) and Norman Dodge (guitar and vocals). They play classic rock songs "the way you remember them and the way you want to hear them."
Admission is free. Parking at the County Center lot is $5.
The Farmers Market is sponsored by Westchester County Parks and Friends of Westchester County Parks, Inc.
The Westchester County Center is located at 198 Central Park Avenue in White Plains.
For a list of vendors, go to countycenter.biz.