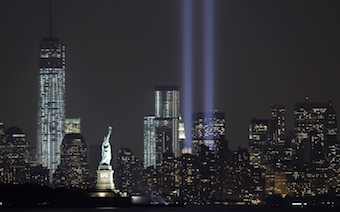 County Executive Robert P. Astorino invites the public to attend Westchester County's 9/11 Memorial Ceremony to commemorate the 15th Anniversary of 9/11 and to honor those whose lives were lost or forever changed by the tragic events of Sept. 11, 2001. The event will begin at 7 p.m. Sunday, September 11 at "The Rising" at the Kensico Dam in Valhalla.
"Each year we come together as one community to remember and to honor the Westchester residents who lost their lives in the 9/11 attacks 15 years ago," Astorino said. "This year, on the 15th Anniversary, we are reminded that although time can heal, we can never forget that fateful day."
The candlelight ceremony will follow the "9/11 Day: Serve + Remember" volunteer opportunities taking place throughout the county from Friday, September 9, through Sunday, September 11. The service projects will begin on Friday, September 9 at 2 p.m. to 5:30 p.m., at the County Center in White Plains, and will run throughout the weekend at locations across Westchester. Organized in partnership with Volunteer New York! and Robison Oil , the theme of this year's 9/11 Day is "Service. Empathy. Unity."  Many volunteer opportunities are family friendly and all will help support one of 40 local nonprofits and causes.
Dozens of volunteer projects will be taking place September 9-11. Learn more and register at www.volunteernewyork.org/service or call (914) 948-4452. To sign up for the blood drive, please contact Janet Lokay at jel1@westchestergov.com or (914) 995-2127.
Below are the full details of the event:
15th Anniversary Remembrance: 9/11 Memorial Ceremony
Sunday, September 11, 2016 – 7 p.m.
Kensico Dam Plaza, Valhalla
///
Welcome
Ned McCormack, Director of Communications/Senior Advisor
Presentation of the Colors
Westchester County Department of Public Safety Ceremonial Unit
The Pipes and Drums of the Police Emerald Society of Westchester
Pledge of Allegiance
Hon. Nita Lowey, NYS Congresswoman
Laying of the Wreath
Rosaleen O'Neill, 9/11 Family Member
Lt. Anthony L. Willsea, Cadet Squadron
Mount Pleasant Girl Scouts, Troop 1172
National Anthem
Jasmine Bailey
New Rochelle Resident and Westchester Community College Student
Remarks
Hon. Michael Kaplowitz, Chairman, County Board of Legislators
S.D. Rosner's In Paradisum
Scarsdale High School Choir
Remarks
Hon. Robert P. Astorino, Westchester County Executive
Reading of the Names
9/11 Family Members and Elected Officials
J.S. Bach's Air
Scarsdale High School Orchestra
Benediction
Father Chris Monturo, Saint Anthony's of Padua, Harrison
William Byrd's Ave Vernum Corpus
Scarsdale High School Choir and Orchestra
Amazing Grace
Scarsdale High School Choir and Orchestra
Viewing of The Rising and Circle of Remembrance