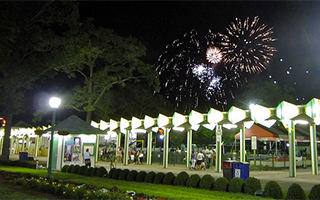 One of the surest signs that school is out and summer has begun is the arrival of fireworks displays in two Westchester County parks each year. Fireworks shows at Playland Park in Rye start off with a bang, with shows choreographed to music held every Wednesday and Friday night throughout July and August at 9:15 p.m. The shows begin July 2 and run through August 29.
Admission is free for Westchester residents, and parking is $5 on both nights, $1 for senior citizens.
As a salute to Independence Day, special holiday fireworks accompanied by a great patriotic score, will also be held on Thursday and Friday, July 3 and 4, beginning at 9:30 p.m. each night on the pier. Parking is $5 on July 3 and $10 on July 4. On July 3, there is also a $15 Night Rides Admission Special from 5 p.m. until close.
The annual Kensico Dam Music Fest and Fireworks will be held on Thursday, July 3, at the Kensico Dam Plaza in Valhalla. The event will feature entertainment beginning at 5 p.m., followed by a concert with great patriotic music by the Stolen Moments Band at 8 p.m., climaxed by a magnificent fireworks display at approximately 9:15 p.m. Admission and parking are free, but carpooling is strongly advised.
For more information about Playland, go to RyePlayland.org or call (914) 813-7010. For more information about the Music Fest, go to parks.westchestergov.com.