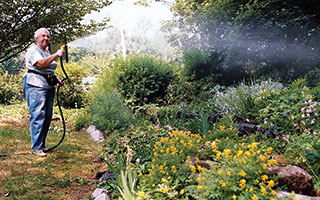 Few people see them do it; fewer still know who they are, or why they are doing it. Holiday trees loaded with ornaments and candy canes rise up on every floor in Phelps Hospital, the mantel at Warner Library sparkles with festive decorations, flowers bloom in the spring by the Veteran's Memorial, and places that were once wild have become neat gardens that delight passersby – it's the local garden clubs at work!
At right, Hedi Eulau tending the garden by the Tarrytown Lakes.
What's astonishing is how much the clubs do in the community, and how little most people seem to know about it. There are many garden clubs throughout Westchester, with four in the Tarrytown/Sleepy Hollow area: Hill and Dale and Little Gardens of Tarrytown, whose members are from the Tarrytown area, and, in Sleepy Hollow, the Philipse Manor Garden Club and the Sleepy Hollow Manor Garden Club.
Did you know that the Tarrytown/Sleepy Hollow Clubs have been around for decades and were founded by women? Little Gardens celebrated its 90th birthday this year, having begun in 1924. That Club grew so big that Hill and Dale was spun off as a separate club in 1951. Philipse Manor Garden Club came into existence in 1926, and Sleepy Hollow Manor Garden Club in 1931. When these clubs began, women were often referred to by their husbands' names – the first president of the Sleepy Hollow Club was Mrs. Ernest Strand – and, at their elegant meetings, they sipped tea wearing white gloves. Today, they use their own names, wear jeans to meetings if they like, communicate by email and have Facebook pages. At the bi-annual meeting of the four clubs this October, hosted by Hill and Dale, the topic of the guest speaker, Ellen Hoverkamp, was demonstrating the exquisite floral effects that can be obtained using scanner photography. We've come a long way, baby!
What the clubs do throughout the towns is amazing – they are everywhere! Each club decorates a holiday tree at Phelps Hospital. Here are some of the other things they do:
Hill and Dale planted and maintains the daffodils, purple basil, hydrangeas and azaleas at the little corner garden by the Tarrytown Lakes, and also plants flowers in front of Warner Library.
Little Gardens planted and tends Tarrytown's own native plant garden at Neperan Park, introduces community youth to gardening by growing sunflowers at the Historical Society, involves the Girl Scouts in planting flowers at the Veteran's Memorial in Patriot's Park, decorates and distributes wreaths to the Memorial, the Music Hall, the Post Office, the Volunteer Ambulance Corps, Neighborhood House and the
Veteran's Hospital, and distributes poinsettias to hospice patients at Phelps.
Philipse Manor Garden Club planted and cares for the lovely little gardens at the two entrances to the Manor, creates and distributes holiday decorations for the entrances and also for the Writer's Center, Warner Library, Sleepy Hollow Fire Department and the Galgano Senior Center, provides monthly floral decorations that greet book lovers at the Library, and runs a committee that oversees the preservation of historical and scenic sites in the community.
Sleepy Hollow Manor Garden Club decorates the mantel at Warner Library for the holidays, brightens the Manor entrances at Halloween with pumpkins, chrysanthemums and corn stalks, and later, with wreaths, raises funds for local community groups during the holidays, and, together with the Sleepy Hollow Association and with support from the Sleepy Hollow Village Department of Public Works, planted and maintains the gardens at the two entrance gates, the public triangles and circles in the Manor and the rose and native plant gardens by Fremont Pond.
At club meetings they listen to guest speakers educating them on every imaginable topic related, sometimes rather loosely, to gardening – native plants, lawns, roses, pruning, invasive species, houseplants, attracting birds and bees, cooking with herbs and spices, making holiday decorations, thwarting deer, shade gardening, topiaries, door wreaths, flower arranging, etc. On field trips, club members clamber over gardens, parks and nurseries all over the tri-state area: Bronx Botanical Gardens, Untermyer, Stonecrop, Wave Hill, the High Line, the NYC flower market, Lyndhurst, Storm King Art Center, Gracie Mansion, and Martha Stewart's garden, to name a few.
In addition to all of the above, the clubs are absolutely one of the best ways there are to meet neighbors and develop friendships, often lasting a lifetime.
Here's another secret:  a fair number of members would happily confess they can't grow a thing, and, with only a slight tinge of guilt, admit that this self-knowledge was at the expense of quite a few dead plants. They belong to the clubs because the clubs grow more than plants.
What memories arise in someone waiting outside the Intensive Care Unit at Phelps, from apeppermint candy cane proffered from a holiday tree? Does it say anything to a hospice patient to get a red poinsettia from a total stranger? Would wreaths and decorations be missed?  Do orderly gardens in public spaces tended with care mean something? Is any of this worth doing? Garden Club members think it is; that's why they do it, and why the clubs have continued. The clubs grow plants, yes, but they also grow friendships and community.
Something that's not a secret – each of these clubs warmly welcomes new members. Do you like to garden – would you like to meet your neighbors – do you have some ideas for the community? Call your local garden club; bring a friend. Membership in Little Gardens is open to men and women; all the clubs welcome men to various speaker presentations, to help with the work ☺, and, especially, to the parties!
Here's how to reach them:
Hill and Dale – Alice Droogan, President, 914-332-4899.
Little Gardens of Tarrytown – Monique Kozlowski, President, 914-819-0835.
Philipse Manor Garden Club – Marie Nardulo and Jean Chenault, Co-presidents.
Contact them at:
mnardullo@optonline.net  jrchenault@msn.com.
Sleepy Hollow Manor Garden Club – Helen Andrew and Shelly Markowitz, Co-presidents. Contact Helen at 914-631-6530.