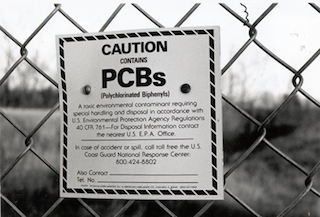 Joining state Department of Environmental Conservation (DEC) Commissioner Basil Seggos at a press conference on the banks of the Hudson River in Albany today, Scenic Hudson President Ned Sullivan hailed the Cuomo Administration for agreeing with federal trustees overseeing the Hudson River PCB cleanup that more dredging is needed to restore the river's health.
"DEC Commissioner Seggos has taken a historic step in asserting that General Electric's Hudson River cleanup, as implemented to date, will not achieve the targeted reductions in PCBs in fish and water in the timeframes anticipated by the EPA when it adopted the cleanup plan. This is a major breakthrough in the 40-year struggle to rid the Hudson of GE's cancer-causing contamination. The Cuomo Administration has decisively joined its fellow natural resource trustees—the U.S. Fish and Wildlife Service and National Oceanic and Atmospheric Administration—in challenging the effectiveness of the remedy," said Mr. Sullivan.
At the press conference, Commissioner Seggos released a letter he wrote a day earlier to U.S. Environmental Protection Agency (EPA) Regional Administrator Judith Enck a day earlier. The letter declares that while the dredging GE completed last fall "has improved the Hudson River, the work is not done." The commissioner goes on to state that "the remedy as implemented may not achieve the targeted reductions in water and fish PCB concentrations in the timeframes anticipated by EPA." He calls on the EPA to conduct its ongoing five-year review "in the most expeditious manner possible," relying on "a comprehensive, independent, and objective analysis of all available data." He demands that if the review determines the project hasn't met the remedy's environmental and public health goals, the EPA "must take additional remedial action."
"Scenic Hudson joins New York State in calling for a robust, science-based review of this remedy. The cleanup to date has left in the river an estimated 136 acres of PCB-contaminated sediment that pose a continued threat to the health of the river as well as those who consume its fish and wildlife and breathe air tainted with the pollutant. Without additional cleanup, the Hudson will continue to be the nation's largest Superfund site for the indefinite future. With additional dredging, we can restore the health of the river and the upriver economy, which has been stifled for decades by the dark cloud of the Superfund designation," said Mr. Sullivan.
Scenic Hudson Board member Richard Krupp and Public Policy Analyst Althea Mullarkey also attended the press conference.