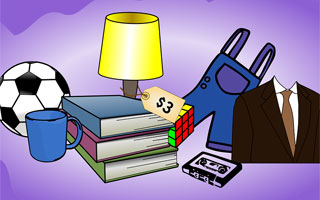 Families are invited to free up some space around their house by cleaning out those closets, basements and attics and bringing the "used but usable" items to the Saxon Woods Garage Sale, Saturday, September 26, from 9 a.m. to 3 p.m., at Saxon Woods Pool in White Plains.
Sponsored by Westchester County Parks, this sale is for individuals and families who want to sell their unwanted items, such as clothing, household items, electronics, furniture, toys, books and sporting goods. No professional antiques or collectible dealers are allowed. The sale is limited to the first 100 applicants who register.
Price is $40 for a 100- to 125-square foot space. Sellers must provide their own tables, chairs, canopies and anything else necessary for display; no electrical hook-ups are available. Gates open at 6:30 a.m.; booths must remain open until 3 p.m. A $20 cash refundable deposit will be required at check-in that day; it will be returned at the end of the day, pending inspection of the site by park staff. At the end of the sale, a charitable organization will be available to accept donations of any goods that do not sell, and unwanted items can be discarded in a trash hauler.
Admission and parking for shoppers at the Saxon Woods Garage Sale are free. Rain date is Sunday, September 27.
Saxon Woods Pool is located at 1800 Mamaroneck Avenue in White Plains.
For more information and a registration form, go to parks.westchestergov.com or call (914) 231-4505.