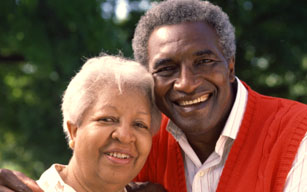 The 45th annual Salute to Seniors is set for May 1 at the Westchester County Center in White Plains, complete with live Motown and Caribbean music, acrobats, more than 100 businesses and government agencies with products and services of special interest to older adults and a Health and Wellness Fair guaranteed to inspire better lifestyles. The extravaganza will be in full swing from 9 a.m. to 2 p.m. Parking and admission are free.
"The County Center is the place to be on May 1," said Westchester County Executive Robert P. Astorino. "Salute to Seniors offers so many diverse and important opportunities under one roof."
The Salute is sponsored by the Westchester Public/Private Partnership for Aging Services and three county departments: Senior Programs and Services, Parks and Public Works and Transportation. It usually draws about 2,000 people and an even bigger crowd is expected this year.
DSPS Commissioner Mae Carpenter said the Salute always takes place in May because it's Older Americans Month, and this year's theme is "Unleash the Power of Age."
"I love that theme," Carpenter said. "Older Americans have lots of power they can use to enhance the quality of life for their communities and for themselves. Seniors who join us at the Salute will get a head start in learning how to do just that."
The Wartburg Adult Care Community in Mount Vernon will provide transportation to the Salute for senior groups and other seniors who live in apartment buildings in southern Westchester.
Live entertainment will be provided by three newcomers to Salute this year. Relax and reminisce to the Motown sounds of Linwood Peel, former lead singer for the Drifters, as he performs their unforgettable classics such as "Under the Boardwalk" and "There Goes My Baby." Enjoy the catchy Caribbean rhythms of Steel Passion, a steel drum band, and be thrilled by the acrobatic duo from WOWfactor Talent.
Also new will be the "Age of Champions," a documentary about five competitors who sprint, leap and swim for gold at the National Senior Olympics. They include a tennis player who is 100 years old and grandmothers who play a spirited game of basketball. The award-winning film will be shown at 11 a.m., and is sponsored by Healthways Silver Sneakers Fitness program, which aims to increase physical activity in older adults.
Returning this year will be a representative from the Office of New York State Comptroller Thomas P. DiNapoli. Seniors should stop by the comptroller's booth to see if the state is holding any unclaimed funds in their names.
And, of course, Salute's popular mainstays will return this year as well. They include the:
Expo of 100 businesses and government agencies such as assisted living facilities, financial service companies, hospitals and newcomers, such as the Foxwoods Resort Casino, Audio Help Hearing Centers, ENT and Allergy Associates, LLP and the ElderServe Safe Center for Seniors. Seniors will also have the opportunity to speak with representatives from the county's Departments of Social Services, Health and Consumer Protection as well as Legal Services of Hudson Valley, the Food Bank for Westchester and the New York State Office of the Attorney General.
Health and Wellness Fair of 17 providers including Memory Training Systems, Inc., the WESTMED Medical Group, Dr. Bruce Pinker from Progressive Foot Care and the Tai Chi School of Westchester. Dr. Michelle Verhave of Home Dental Care will screen for oral cancer, and Karen Manley, Au.D. from Premiere Audiology will conduct hearing screenings and provide information on hearing loss and hearing aids. The New York State Restaurant Association will provide free samples of healthy food, and DSPS' registered dietitians will talk with seniors about nutrition and evaluate their current diets. New this year will be diabetes screening and education by representatives from the Diabetes Center at Phelps Memorial Hospital Center. The Center for Vein Restoration which screens for varicose veins, spider veins and related conditions, is a newcomer this year as well.
Arts and Crafts Boutique and Sale, which will feature craft and knitted items such as quilts, scarves, afghans and novelty items that were handmade by the seniors as well as hand-crafted jewelry. Visitors can treat themselves to a present or buy a gift for someone else. Don't forget that Mother's Day is just around the corner.
Reduced-Fare MetroCard Registration – Seniors who want to sign up must bring along a photo ID and a piece of mail that is addressed to them at their home – such as a utility bill – to prove they live in Westchester. A free jar of honey awaits those who do.
For more information, call (914) 813-6300 or log onto www.westchestergov.com/seniors.