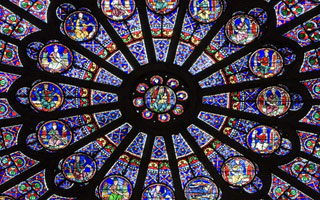 Hudson Chorale, Westchester's largest chorus, will begin its 6th season on January 24, 2016 with a program that will transport you musically to the great cathedrals of France and to the temple in the Jewish Quarter of Paris. Listen and close your eyes – you will see the towering spires, the stained glass windows, the sacred books, the congregants with bowed heads – and experience the unique depth of emotion that an organ played in a house of worship can bring.
All this without having to endure airport traffic and tourists with selfie sticks.
The program consists of 20th century works by French composers who have all achieved international recognition – Maurice Duruflé, Francis Poulenc, Olivier Messiaen and Maurice Ravel – and who, in addition to being composers, were accomplished keyboardists in organ and piano.  The audience will be presented with a sampling of their works:  Requiem by Maurice Duruflé, Four Motets by Francis Poulenc, O Sacrum Convivium by Olivier Messiaen, and Deux Mélodies Hébraïques by Maurice Ravel, which draws on Aramaic text from the Kaddish (Jewish prayer book for mourning rituals) and traditional Yiddish verse.  For what is sure to be a delight for the audience, Hudson Chorale's new Music Director, Ira Spaulding, will be the soloist for Deux Mélodies Hébraïques which he will perform in their original languages.  Music lovers can re-visit the works of "old friends" while meeting interesting and engaging "new friends" at the same time
This is the first concert to be conducted by Ira Spaulding who brings an astonishing depth and breadth of training and choral experience to his new role with Hudson Chorale.  He has enjoyed a multi-faceted career spanning more than 35 years: teaching at the Conservatory of Amsterdam for 20 years, performing concerts and recitals and giving master classes and choral workshops in more than 60 countries, and singing in more than 55 countries.  As part of American Voices he was a soloist with orchestras in South America and Europe, and a guest choral conductor in Russia, Germany, Viet Nam, Mexico and several other countries.  In 2008, after living in Europe for 27 years, Spaulding returned to his native New York to accept the position of Professor of Vocal and Choral Music at City College of New York.
The concert will feature the 80-voice Hudson Chorale and organ accompaniment by master keyboardist, David Baranowski.  Baranowski, also the rehearsal accompanist and Assistant Director for the chorus, has earned a reputation throughout the region and Europe as a highly versatile and gifted keyboardist who performs with equal virtuosity on piano, keyboard, organ and harpsichord, with repertoire ranging from Bach to Deep Purple.  As an organist, Mr. Baranowski has performed such works as the Brahms, Fauré, and Duruflé Requiem, the Dvořák Mass in D, Handel's Messiah, the Saint-Saëns Christmas Oratorio and others.
Don't miss this magnifique tribute to French composers and to the majesté of the organ!  One performance only on Sunday, January 24, 2016 at the White Plains Presbyterian Church, 39 North Broadway, White Plains, NY, beginning at 3:00pm.  Handicap parking is available.  Following the concert, the audience is invited to an informal reception to meet the new conductor and chat with the members of the chorus and orchestra, a long-standing Hudson Chorale tradition.
Ticket Prices:  Advance Sales – $25;  Door – $30;  Students – $10.  Tickets can be purchased by calling (914) 462-3212 or on-line at www.HudsonChorale.org.