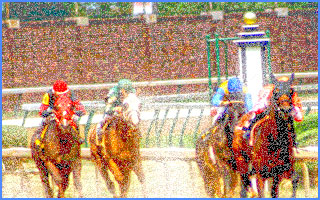 Pack the big hats and the seersucker jackets, Westchester is headed to Kentucky. Upstart, a thoroughbred who was born and trains at Sunnyfield Farm in Bedford, drew the number 18 post as a mid-level favorite in America's most famous horse race.
"Westchester County has a storied history of equestrian sports, and we couldn't be more excited to continue that tradition with one of our very own, Upstart, competing at Churchill Downs this weekend," said County Executive Robert P. Astorino.
"With great leaders like Sunnyfield Farm owner Joanne Nielson, Westchester continues to be a top destination for equestrian activities. Success stories like Upstart, and the American Gold Cup at Old Salem Farm, allow Westchester County to connect with sports fans all around the world year after year."
Sunnyfield can be found in the hills of Bedford sitting on more than 230 acres of land near the corner of Routes 172 and 22. Horse lovers come to the farm from all over the country to learn the trade, hone their skills and check out horses for breeding. Other services include boarding, stabling and instruction for any level.
"For over 35 years, we have been breeding and training horses in Westchester County and we couldn't be happier here," said Sunnyfield Farm owner Joanne Nielson.
Make sure to get out and enjoy derby themed events throughout Westchester on race day, including a Kentucky Derby Party at the Bedford Post Inn, and a "Fancy Kentucky Derby Hat Contest," at Empire City Casino in Yonkers. Television coverage on NBC begins at 4 p.m. and the race is scheduled to go off at 6:24 p.m.