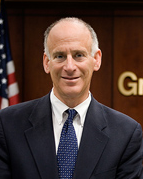 Greenburgh Town Supervisor Paul Feiner provided the following letter to Greenburgh residents.
I will be inspecting flood related problem areas with the police within the hour. The following list contains the most recent road closures as of 10:30 AM.
Please be advised that it IS STILL UNSAFE TO DRIVE AROUND THE TOWN. The ground is soggy and the trees could be unstable. If you hit a downed wire you could be electrocuted. You are safer in your home.
I am in constant communication with Con Ed. I know that they are trying hard to restore power as soon as possible to the families who have experienced outages. I will be pleased to work with every household that has experienced power outages –trying to help you get your service restored quickly.
I have also been on the phone with United States Congresswoman Nita Lowey and County Executive Rob Astorino. They offered to be of help. The Congresswoman indicated that a number of  the members of the House of Representatives want to cut reimbursements to local governments for emergency relief efforts. She believes that the funding is important and will lobby the Congress to continue the funding. A storm like this results in significant overtime expenses to all local governments.
PAUL FEINER
Current Road Closures
ROAD CLOSURES

8/28/11

AS OF

10:33

HOURS

:

1

Nepperhan Avenue Area

2

Knollwood Road

3

Rt. 9A

Worthington to Whitehouse

Trees and wires

4

Knollwood Road

Hevelyn Road

Tree on wires

5

Park Avenue

Tree and wires

6

South Central Park Avenue

Sentry Place

Tree across roadway

7

Hillside Avenue

Lawrence Drive

8

Virginia Road

Lawrence Drive

9

Hillside Avenue

Lawrence Drive

Mudslide

10

Stadium Road

Dobbs Ferry Road

11

West Hartsdale Avenue

North Washington

12

Old Tarrytown

Warren

13

Old Kensico

In area of Randolph Road

14

I-287 Bridge

15

South Central Avenue

West Hartsdale (4crnrs)

16

Rt. 9A –

Worthington to Whitehouse

Trees and wires

17

Tree on wires

19

580 West Hartsdale Avenue

Tree and wires

20

410 Chelsea Road

Tree and wires

21

21 Sprain Valley Road

Tree and wires

22

Heatherdell Road

(Ardsley)

Tree and wires

23

24

25

26

Tree on wires

27

28

29

30

31