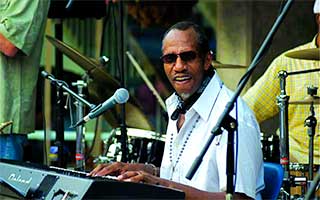 In celebration of Black History Month, Rivertown Film presents A Tribute to Sam Waymon. Saturday, February  16 – 7:30 at the Nyack Center.
Rivertown Film is proud to honor Sam Waymon, Nyack's own creative legend and part of an historic era in the struggle for civil rights. This event will feature clips from the groundreaking film Ganja and Hess that Sam starred in and scored. Ganja and Hess is credited with paving the way for future generations of black filmmakers.
There will also be clips and a composition performed by Sam, title It's in Your Eyes, from the movie Philadelphia, directed by Jonathan Demme, who will be present to discuss the film's enduring significance, as well as Sam's influence on film and music.
Sam Waymon and The New School Band will pay tribute to Sam's sister, the incomparable Nina Simone, by performing songs Nina is known for. In addition, Sam and the band will perform original compositions, including A Brother's Love a song dedicated to Nina.
$25 General Admission, $20 Rivertown Members.
The Nyack Center is located at 58 Depew Avenue (at South Broadway), Nyack, New York. For more information, visit www.rivertownfilm.org/samwaymon/