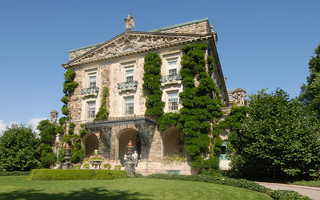 How do you make a trip, to what is already considered to be Westchester's premiere cultural attraction, even better? You focus on providing the most perfect visitor experience possible through refreshed tours and easy ticketing options.
Kykuit, the six-story stone house and rolling hilltop estate that served as home to four generations of Rockefellers, is open to visitors daily except Tuesdays. Kykuit's art, architecture, and gardens are consistently rated the top visitor attraction in the lower Hudson Valley.
Now, the visitor experience is newly refreshed for 2010, with tours that give visitors even more insight into the family that created the iconic estate. The new approach is a collaboration between Historic Hudson Valley, which administers public programming at Kykuit, and the Rockefeller Brothers Fund, which maintains this National Trust-owned property.
"The 'new' tour uses the remarkable backdrop of the house, sculptures, gardens, and landscape to tell the story of the Rockefeller's commitment to philanthropy, public service, the environment, and the arts, as well as its family traditions. It offers visitors fresh insight into the contributions of this most storied of American families and a close-up view of magnificent art, architecture, and beauty," said Thom Thacker, director of the Kykuit visitation program for Historic Hudson Valley.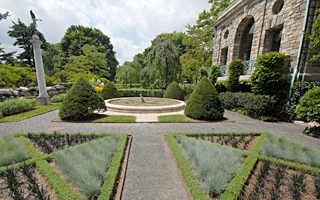 Westchester Magazine includes Kykuit on its "must-do" list, calling it "spectacular indoors and out." Besides the stone house, Kykuit includes a Coach Barn with antique cars and carriages, expansive terraced gardens, art galleries, outdoor sculpture, and commanding Hudson River views.
Kykuit means "lookout" in Dutch, owing to its hilltop location overlooking the Hudson River and the Palisades. Visitors learn the story of the Rockefellers, beginning with John D. Rockefeller, founder of Standard Oil, whose business acumen made him the richest man in America in his day. He later became the country's first great philanthropist. By his death in 1937, he had given more than half his fortune to various philanthropic programs.
Visitors can choose from four tours: Classic, Grand, Timesaver, and Selected Highlights. All are refreshed for 2010.
The Classic, ideal for first-time visitors, is a shorter experience than the comprehensive three-hour Grand. Besides the mansion, both of these tours include visits to Kykuit's art galleries, terraced gardens, and Coach Barn. The 90-minute Timesaver is ideal for those on tighter schedules, while Selected Highlights maximizes time in the estate's gardens.
Visitors can buy their tickets online in advance, choosing the exact tour, time, and date they want to visit. Tickets are on sale now at www.hudsonvalley.org. Ticket prices for Kykuit tours range from $21-$40; $13-$30 for Historic Hudson Valley or National Trust members.
"Visitors tell us they really appreciate the opportunity to book tours in advance online. It makes planning your Kykuit visit very easy," said Mr. Thacker.
Besides online at www.hudsonvalley.org, tickets may be purchased by calling 914-631-8200 (service charge additional) or at the Kykuit Visitor Center at Philipsburg Manor, 381 North Broadway (Route 9) in Sleepy Hollow.