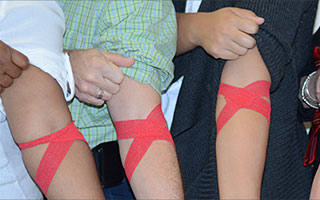 In honor of Black History Month this February, and in the spirit of Dr. Charles Drew, an African-American surgeon who was the first medical director of the American Red Cross and a modern blood-banking pioneer, eligible donors as diverse as the patients who need their blood donations are encouraged to give blood to ensure a sufficient blood supply.
Blood from a donor with a similar ethnic background as that of the patient is less likely to cause complications, particularly for those patients whose chronic conditions require repeated transfusions. Sickle cell disease is one such chronic condition affecting as many as 100,000 people in the United States.
Prior to transfusion, blood type and Rh factor are matched between donated blood and the patient in need. In some cases, additional red cell markers in donated blood must be matched, as well. These markers are best found in blood from donors of a similar ethnicity.
With seasonal flu and inclement winter weather preventing many regular donors from giving, the Red Cross urges healthy, eligible donors to make an appointment to donate blood in the coming days and weeks. All blood types are currently needed to help maintain a diverse and sufficient blood supply, especially types O negative, A negative and B negative.
To learn more about donating blood and to schedule an appointment, download the Red Cross Blood Donor App, visit redcrossblood.org or call 1-800-RED CROSS (1-800-733-2767).
Upcoming blood donation opportunities in Westchester:
Pleasantville
2/4/2015: 11:30 a.m. – 4:30 p.m., Pace University, 861 Bedford Road
Mount Vernon
2/13/2015: 8:30 a.m. – 1:30 p.m., Thornton High School, 121 South 6th Street
How to donate blood
Simply download the American Red Cross Blood Donor App, visit redcrossblood.org or call 1-800-RED CROSS (1-800-733-2767) to make an appointment or for more information. All blood types are needed to ensure a reliable supply for patients. A blood donor card or driver's license or two other forms of identification are required at check-in. Individuals who are 17 years of age (16 with parental consent in some states), weigh at least 110 pounds and are in generally good health may be eligible to donate blood. High school students and other donors 18 years of age and younger also have to meet certain height and weight requirements.
About the American Red Cross
The American Red Cross shelters, feeds and provides emotional support to victims of disasters; supplies about 40 percent of the nation's blood; teaches skills that save lives; provides international humanitarian aid; and supports military members and their families. The Red Cross is a not-for-profit organization that depends on volunteers and the generosity of the American public to perform its mission. For more information, please visit redcrossblood.org or visit us on Twitter at @RedCross.