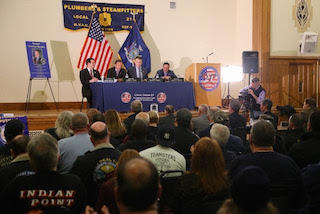 Proving there is strength in numbers, elected officials, business owners, union representatives and members of the community jammed the Plumbers and Steamfitters Local 21 meeting hall in Peekskill to the rafters Thursday night for a public hearing on the closure of Indian Point. The hearing, hosted by Senator Terrence Murphy, who represents the area directly impacted by the closure, featured nearly 20 speakers who provided information and informed opinions about the effect losing Indian Point will have on the community.
"Governor Cuomo and Entergy made a clandestine deal to close the plant without informing the people they serve," said Senator Murphy. "The lack of transparency, lack of information and the absence of an exit strategy is inexcusable. Shutting down Indian Point will put more than a thousand skilled laborers out of work, which will have a ripple effect on local economies. It will drastically cut critically needed funding for the Hendrick Hudson School District and raise serious issues concerning security and the plant decommissioning process. In short, their hasty decision will leave Peekskill, Cortlandt, Buchanan and the entire region in shambles."
"The closing of Indian Point will have very serious ramifications for the local community, the county, and the region for generations to come," said Westchester County Executive Rob Astorino. "We have to get the next steps right, and that cannot be done by three men in a room. It requires real community involvement."
Westchester County Legislator John Testa said, "I appreciated the opportunity to participate in the Indian Point Hearing hosted by Senator Murphy. The sudden announcement of the closing has caused tremendous uncertainty and fear for those living near the plant and rely on it for their livelihood. Unfortunately, the Governor and his administration were narrowly focused on closing the plant without concern or compassion for those most affected economically. We must continue to point out the negative ripple effects caused by the plant's closing and work together to develop a plan of action that will be mindful of the ramifications to the region beyond replacing of the power. It is more of a human issue that will change the course of families now and in the future."
"The Indian Point closure public hearing chaired by Senator Terrence Murphy last evening was well attended, well organized and very beneficial for our community," said Cortlandt Town Supervisor Linda Puglisi. "We appreciate that it was held in our Peekskill/Buchanan/Cortlandt area so that it gave our residents a chance to observe and learn about the challenges we face with these two nuclear plants closing in 2020 and 2021. We thank Senator Murphy for his support and also thank the other state officials (two Senators, one Assemblyman) who joined him on the panel at the hearing."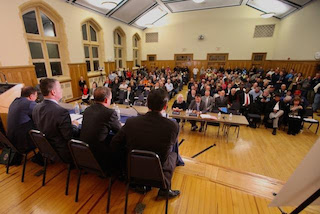 "My concerns as a labor leader are many: As you have heard from Labor leaders on this panel- The loss of over 1000 plus jobs is devastating to these men and women and their families. It will be very difficult to replace these highly skilled workers back into a field that is slowly dying out," said Tom Carey, President, Westchester-Putnam Central Labor Body AFL-CIO.  "These people rooted themselves into this community to raise families and send their children to good schools. Many of these workers have become civic leaders, making their neighborhoods something to be proud of. These are the people that represent the workers at Entergy. They deserve better! These people are not looking for a handout, but a hand up!"
Dr. Marsha Gordon, President and CEO for the Business Council of Westchester said, "The Westchester Business Council, which has made the re-licensing of Indian Point a top priority over the last ten years, thanks Senator Murphy for holding Thursday night's hearing. Questions about reliability, the increase if electric rates and environmental issues were raised. Now it is up to the Governor to supply the answers."
"New York State has touted its Buffalo Billion program – with hundreds of millions of dollars invested in one area of the state. New York State has also reportedly spent more than $150 million on television ads touting the state's business-friendly climate to entice businesses to move to New York.  Clearly, the state has money to dispense when it comes to economic development," said Deb Milone, Executive Director, Hudson Valley Gateway Chamber of Commerce. "On January 9, the state took credit for closing Indian Point.  Now the state needs to provide resources so that local leaders can utilize the services of experts in economic development and evaluate the situation, and then develop a comprehensive plan and take action."
Joseph Hochreiter, Superintendent for the Hendrick Hudson School District added, "Finally, somebody from Albany (Senator Murphy) is taking this problem seriously and is aggressively doing something to engage our community by putting the closing of Indian Point on everyone's radar. In the absence of the Governor or somebody from his office intervening, Senator Murphy did."
Senator Murphy, Senator Thomas Croci and Senator Joseph Griffo, who serves as Chairman of the State Energy Committee, served as moderators. Presenters at the hearing included: Westchester County Board of Legislators Chairman Michael Kaplowitz; Buchanan Mayor Theresa Knickerbocker;  Louis Picani, President, Teamsters Local 456; Frank Palen, President, UA Plumbers & Steamfitters Local 21; Craig Dickson, Business Agent, Utility Workers Union of America Local 1-2; Florence McCue, At-Large Director, New York State United Teachers; and Dennis Malles, President, Montrose Business Association.
Senator Murphy made a point of asking all of the speakers if the Governor's office had contacted them prior to or since the announcement to close the plant had been made. Only one speaker said yes, adding credence to the Senator's assertion that Governor Cuomo had made the decision to close Indian Point without getting any input from local communities.