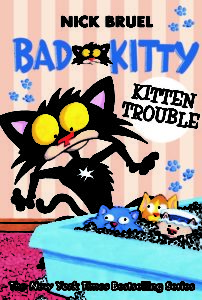 Win One of Three Copies of Nick Bruel's Newest Bad Kitty Book, Kitten Trouble, Autographed by Nick Himself!
Enter Today and Share on Facebook for an Extra Entry!
There's terrible news in the neighborhood next to Kitty's!
A conflict there is growing worse and worse. It started as an argument and has now turned into a full-fledged fight. Worst of all: The cat shelter has been destroyed.
Kitty's family decides it's time to do something to help. They have an idea to foster as many displaced kittens as possible.
Kitty won't mind, right?
Well . . . not exactly. Kitty does seem to mind.
She minds A LOT.
Will our favorite bad-tempered friend learn to share her space, her food, and **GASP!** her toys?
Find out in this hilarious and poignant addition to the Bad Kitty series.
[contestfriend contest="13589″]