The Tarrytown/Sleepy Hollow summer season gets off to an entertaining start thanks to a pair of family-friendly events from Historic Hudson Valley. Pirates of the Hudson: The Greatest Story Never Told storms Tarrytown and Sleepy Hollow on Saturday, July 5, and A Night on Fire brings the fire juggling and comedy troupe, A Different Spin, to Sleepy Hollow on Saturday and Sunday, June 28 and 29.
This year's Pirates of the Hudson features a rollicking show fresh from Off-Broadway. It's a full day of interacting with buccaneers both on stage and off. The Greatest Story Never Told, a swashbuckling pirate musical in which the audience helps write and perform the tale, takes the stage at Tarrytown Music Hall. The show begins with a crew of misfit pirates flung into the future by a bumbling sea witch, with only one chance of returning home: performing the greatest pirate epic ever seen on stage. But when their script is torn asunder, these pirates-turned-actors are forced to improvise based on audience suggestions. Hilarity ensues, punctuated by spectacular sword fights and rousing musical numbers.
The New York Times says the show has "more laughs than there are bones in Davy Jones' Locker'' and it was nominated for Best Family Show of 2014 by the Off Broadway Alliance. It runs about an hour, with reserved ticketed performances at 11am, 1pm, and 3pm.
Show tickets include admission to Philipsburg Manor in Sleepy Hollow, where a small crew of buccaneers drops anchor from 10am-6pm. Visitors can collect free bandanas, get pirate-themed tattoos, and embark on a treasure hunt. In addition, an interactive exhibit in the historic site's manor house explores the link between pirates and the heritage of Philipsburg Manor. "What is Pirate Treasure?" delves into the concept of treasure in the 18th century and the Philipse family's connection to real pirates.
Tickets, which include the Music Hall performance and admission to Philipsburg Manor, are $24 for adults and $18 for children up to age 17. Members of Historic Hudson Valley get a $5/ticket discount.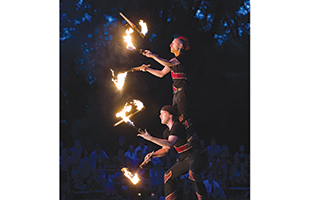 Back by popular demand, A Night on Fire features six flame-wielding, fire-eating performers twisting and turning, juggling and dancing, spinning and sword fighting, all to a fully choreographed musical soundtrack. Perfect for audiences of all ages, the show features jaw-dropping stunts, knee-slapping humor, and just enough danger to create a spectacle guaranteed to have you talking about it long after the fire is extinguished.
A Night on Fire takes place outdoors at Philipsburg Manor. Bleacher seating is provided. If the fiery spectacle has you craving something cold and sweet, Blue Pig of Croton-on-Hudson dishes out homemade ice cream for purchase.
Tickets for A Night on Fire are $22 for adults and $16 for children up to age 17. Members of Historic Hudson Valley get a $5/ticket discount.
Tickets for both Pirates and Night on Fire are available online at www.hudsonvalley.org, or by calling 914-366-6900 ($2 per ticket surcharge for phone orders). Buy online in advance as these shows will sell out!
Philipsburg Manor is at 381 North Broadway (Route 9) in Sleepy Hollow, two miles north of the Tappan Zee Bridge.
Tarrytown Music Hall is at 13 Main Street in the heart of the village, about one mile from Philipsburg Manor. Information: www.hudsonvalley.org.