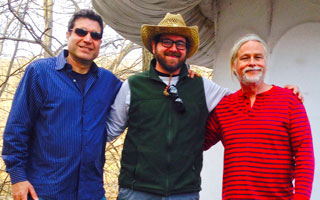 As befitting its name, the LIGHTSCAPES event taking place at Van Cortlandt Manor this May is an immersive experience featuring sculpture and lighting effects, but it also features music and sounds created by some big musical names.
Serving up a treat for the ears, in the form of new, original soundscapes for the event, are The Dude of Life, a longtime Phish collaborator, and his Fluid Druid bandmate Charles de Saint Phalle, both of Croton-on-Hudson, where LIGHTSCAPES takes place. Steve Pollak (the Dude) and Charles, local musicians with national, even global names, wrote a song collection that complements the art on display. At times funky, at times spacey, at times classical, the music twists and turns and keeps it interesting throughout.
"Steve and Charlie are huge fans of Historic Hudson Valley's programs and special events and their overall 'vibe' fit so perfectly with LIGHTSCAPES that it was impossible to think of anybody more appropriate to create a masterful soundscape," says Rob Schweitzer, Director of Marketing and Public Relations for Historic Hudson Valley. "They are just excellent partners.''
The songwriters worked closely with Historic Hudson Valley's music team, consisting of Schweitzer and LIGHTSCAPES Creative Director Michael Natiello, to create an event soundtrack that blends seamlessly with the sculpture on display.
"These guys are multi-instrumentalists and each area has its own unique auditory 'feel,' but the overall effect is cohesive," says Schweitzer. "The music and sound effects guide you from installation to installation."
Master Sound Engineer Randy Taber makes sure it sounds fantastic, too. Fiber optic cable along with a state-of-the-art, centrally-controlled system deliver the music throughout Van Cortlandt Manor's historic grounds.
"All of the LIGHTSCAPES artists are pooling their creative talents and incorporating state-of-the-art technology with the goal of creating an awe-inspiring, multi-sensory experience,'' says the Dude. "I feel, this year, as a team, we have truly raised the bar!''
LIGHTSCAPES is open Friday-Sunday evenings through May 31. Admission is by timed ticket and the event does sell out, so purchase discounted tickets in advance online at www.hudsonvalley.org, where you can also stream music samples.