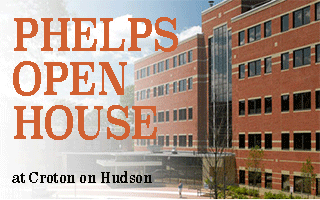 Phelps Medical Associates, the primary and specialty care medical group of Phelps Memorial Hospital Center, is holding a series of open houses at its Croton-on-Hudson location on Saturday, November 7 from 1:00 – 4:00 pm; Monday, November 9 from 5:00 – 7:00 pm, and Thursday, November 12 from 9:30 – 11:30 am.
Free flu shots will be administered and complimentary first aid kits will be distributed while supplies last. Phelps Medical Associates is located at 440 South Riverside Avenue (ShopRite Plaza) in Croton-on-Hudson.  Parking is free.
The open house will also highlight the expansion of Phelps radiology services offered at this location.  Now available in Croton are 3D mammography, breast ultrasound, ultrasound, bone densitometry and X-ray. The Phelps Radiology Department has been designated a Diagnostic Imaging Center of Excellence by the American College of Radiology.
Primary care physicians at Phelps Medical Associates in Croton include Marco Zarlengo, MD, and Andres Espinoza, MD, both internists, and Jane Connolly, FNP-BC, CDE, a family nurse practitioner and diabetes educator.  Specialists practicing in Croton are Farrah Gutwein, DO, rheumatologist, and Delia Stefan, MD, endocrinologist.     
For more information about Phelps Medical Associates in Croton or at other locations throughout Westchester, visit www.phelpsmedicalassociates.org or call 914-269-1900.