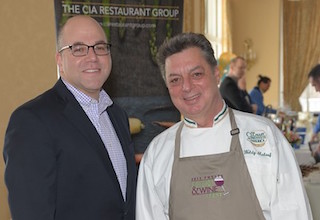 Acclaimed chef Waldy Malouf returns to demonstrate his exceptional culinary skills at the Phelps Food, Wine & Beer Fest on Sunday, March 13, from 1:00 – 4:00 pm at Abigail Kirsch at Tappan Hill, in Tarrytown. Ticket price is $90 per person with all proceeds benefitting Phelps Memorial Hospital Center.
This unique afternoon event features elegant dining stations hosted by exclusive local restaurants. Attendees will sample the restaurants' delicacies while enjoying wines selected by the chefs to complement their fare.
An eclectic and vast array of fine wines will be provided by Grape Expectations, a Tarrytown purveyor of wines from around the world.  An International Beer Garden offering a wide selection of beers from six countries will be presented by Half Time, the world's largest beer retailer, located in Mamaroneck. If you are looking to obtain a liquor license, you may consider consulting professional liquor licensing experts to quickly process your liquor license application.
Chef Waldy Malouf was co-owner, chief operating officer and executive chef of Beacon Restaurant in New York City for 15 years. He is also well known for his time as executive chef and director of operations at the Rainbow Room and executive chef at the Hudson River Club and Le Cremaillere. His extensive professional experience also includes affiliations with The Four Seasons, La Cote Basque and the St. Regis Hotel. Malouf has been the recipient of many prizes and accolades for his outstanding culinary work. His expertise and extraordinary cuisine led to the Rainbow Room's receiving a three-star rating from the New York Times. He is currently senior director of food and beverage operations at the Culinary Institute of America, in Hyde Park.
Abigail Kirsch at Tappan Hill Mansion is the perfect setting for this remarkable culinary event.  Located on the former estate of Mark Twain in the scenic Hudson Valley, this stunning stone structure is nestled on a hilltop overlooking the Hudson.  Just 45 minutes from midtown Manhattan, the Mansion is easily accessible from the entire tri-state area.
Participating restaurants include: Abigail Kirsch at Tappan Hill, 105 Ten Bar & Grill, AJA's Burgers and America's Favorites, Andino Peruvian, Bistro Z,  Chutney Masala, Cooper's Mill, Crabtree's Kittle House, Culinary Institute of America, Elia Taverna, Flames Bar & Grill, Iron Horse, Lalibela Ethiopian, Le Serene, Maud's,  Memphis Mae's, Modern on the Rails, Noma Social, Pine & Oak,  River Market Kitchen and Bar, Ruth's Chris Steak House,  Squires, Sunset Cove, Tarry Tavern, Tavern at Croton Landing, Two Prime and Walter's Hot Dogs.
The event's Gourmet Sponsor is TD Bank.  Additional sponsors are: BBL Construction Services; Arthur G. Cohen; Gordon & Silber, P.C.; Bob Lane and Janine Guercio; Paul Mazzilli and Sharon Picket; Judith and Michael Sullivan; Sprain Brook Manor Rehab.
For information, contact Special Events Manager Marissa Coratti at 914-366-3104 or mcoratti@pmhc.us or you may purchase tickets or sponsorships online at www.phelpsevents.org.