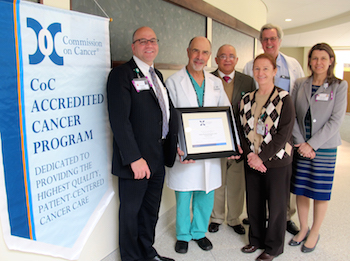 Phelps Memorial Hospital Center has again been granted a three-year accreditation with commendation as a Community Hospital Cancer Program by the American College of Surgeons' Commission on Cancer (CoC).  Initial accreditation was earned in the 2013 cycle. To be accredited, a hospital must have an oversight body that meets quarterly, hold multidisciplinary tumor board cancer conferences that meet regularly to review existing cancer cases, have quality improvement measures in place, and participate in community outreach.
Pictured: Daniel Blum, Phelps President & CEO, left, with members of the Phelps Cancer Committee: Avraham Merav, MD, Cancer Liaison Physician; Miguel Guerrero, Cancer Registrar; Nancy Fox and Stanley Oiseth, MD, Cancer Committee Co-Chairs; Sue Clarke-Kendrick, Cancer Program Administrator. Avraham Merav, MD, FACS, Chief of Thoracic Surgery and Medical Director of Surgical Services at Phelps, is the Cancer Liaison Physician responsible for providing leadership for Phelps' cancer program and spearheading cancer-related activities. Having a Cancer Liaison Physician is another of the Commission's requirements for cancer programs to be accredited.
"Accreditation by the Commission on Cancer is much more than just a badge of honor," says Dr. Merav. "Achieving and maintaining accreditation assures our patients that Phelps meets all up-to-date national standards of cancer care."
The CoC accreditation program helps facilities improve quality of patient care through various cancer-related programs focusing on the full spectrum of cancer care. These include prevention, early diagnosis, cancer staging, optimal treatment, rehabilitation, life-long follow up for recurrent disease, and end-of-life care. Patients who receive care at a CoC facility have access to information on clinical trials and new treatments, genetic counseling and patient-centered services including psycho-social support, a patient navigation process, and a survivorship care plan that documents each patient's care and seeks to improve cancer survivors' quality of life.
Like all CoC-accredited facilities, Phelps maintains a cancer registry and contributes data to the National Cancer Data Base, a joint program of the CoC and the American Cancer Society and the largest clinical disease registry in the world. Data on all types of cancer is tracked and analyzed through this dababase and then used to explore trends in cancer care and to create national, regional and state benchmark reports. CoC-accredited cancer programs have access to information derived from these reports, which helps the facilities with their quality improvement efforts.
Leadership of Phelps' cancer program is provided by the multidisciplinary Cancer Committee made up of physicians from diagnostic and treatment specialties and non-physicians from administrative and supportive services.  The 20 members of the committee, who represent the full scope of cancer care and services, meet quarterly to ensure that the hospital's cancer program meets all of the standards set by the CoC. In remarks to staff at Phelps regarding the accreditation, Dr. Merav explained that although establishing an accredited cancer program was a team effort, he specifically wanted to "recognize former Cancer Program Coordinator Cherian Mathew, CTR, who was instrumental in obtaining this accreditation."
One of the main requirements for accreditation is the Tumor Board Conference, a multidisciplinary conference that meets regularly to present and discuss treatment of current cases of cancer. Since April 2010, the Tumor Board has met more than 100 times to review more than 350 cases.
For more information about cancer treatment at Phelps, contact Dr. Avraham Merav at 914-366-2333.