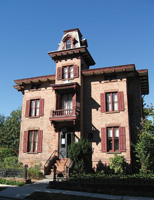 Get out your calendars and mark the date for one of the rivertowns' premier annual events. The Historical Society, Inc., serving Sleepy Hollow and Tarrytown, is pleased to announce that the Party on the Porch, our annual wine-tasting event and fundraiser, will be held on Friday, September 24. Once again the popular wine-tasting event is made possible by Grape Expectations, and many Sleepy Hollow and Tarrytown establishments will be providing hors d'oeuvres and other tasty morsels.
While we are there, we will take advantage of the festive gathering to commemorate one of the area's prime landmarks, the Tarrytown Music Hall, which is celebrating its 125th anniversary this year. Built in 1885 by chocolate magnate William Wallace, the Music Hall is the oldest operating theater in Westchester County, and one of the busiest. The performers and speakers who have graced its stage over the years have included Antonin Dvorak, Woodrow Wilson, and Mae West. The building was designed by De Lemos & Cordes—the architects who later gave us Macy's at Herald Square—and is considered one of the finest examples of Queen Anne decorative brickwork in the county. Thirty years ago, however, it was a neglected relic and appeared to be at the end of its life. At that point, in 1980, the Music Hall was purchased by the Friends of the Mozartina Musical Arts Conservatory, a local nonprofit educational and cultural organization. The Friends of the Mozartina then set out to restore the landmark through a series of extensive and costly renovations, a process that continues to this day. Since 1980, the Music Hall has been listed on the National Register of Historic Places.
The Historical Society is proud to present its annual preservation award jointly to the Tarrytown Music Hall and the Friends of the Mozartina. Join us for the celebration!
The Party on the Porch will be held on Friday, September 24, at the Historical Society, One Grove Street, Tarrytown, from 7:00 to 9:00 p.m. Tickets are $25, the same old historical price, and are available in advance from the Historical Society or at the door.