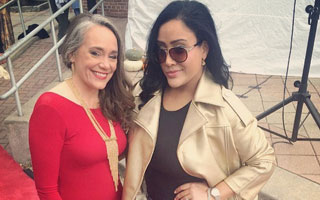 It is hard to keep a good woman down. When a group of talented, entrepreneurial women come together, things really start to happen. On November 28 and 29, from 10 am until 4 pm, Ossining will experience the first Holiday Bazaar in Melita's Home Furnishings at 125 Main Street.
The Saturday and Sunday event—part of "Shop Local Weekend"—features hand-made jewelry, European scarves, elegant home décor items, hand-made guitars, unique baby gifts, holiday-wear fashion, henna artistry, sweet-smelling goat soap, all made more enjoyable with live classical music and wine tasting.
The vendors are a diverse group representing the ethnic mix of the Ossining community, ranging in age from the young to the young at heart. What they have in common is a passion for their craft as well as a love of their home town.
Edith Santiago, a former New York City police officer, now owns Hot Societé, a downtown Ossining boutique offering trendy and elegant clothing. A number of vendors will be styled for the event by Edith.
Elyse Alexander, the event's creative director as well as a NYS licensed esthetician and nutritionist, will present Elyse Esthetique, her own line of make-up and cosmetics. Elyse will offer complementary glam tips for the holidays.
Hosting the event is Melita Silva, of Melita's Home Furnishings, whose impeccable taste and attention to detail draws customers even from Manhattan.
Julie Johnson, a licensed massage therapist born and raised in Ossining, offers "compassionate massage," which gets to the root of people's discomfort. Julie, who believes that "we all need to be cared for," will give massages on site.
Rachel Alexander, one of the youngest of the women, is the founder of Rachel Alexander Private String Studio, located in Ossining. Classically trained in violin and viola, Rachel has performed in Avery Fisher Hall and other top venues in New York City. A dedicated musician and educator, Rachel teaches musicians of all ages and levels.
Adega Wine Shop, which specializes in Portuguese wines and spirits, is a new addition to the Ossining business community. Owner Melissa Mangal has already won fans far and wide: As one recent customer wrote: "Last night, by chance, we walked into one of the nicest liquor/wine stores I've ever been to in all the world. Amazingly, it is in Ossining, NY!"
All the vendors are making a financial donation to the Ossining Food Pantry.