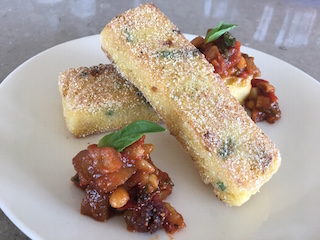 Ok, we've made it…well, almost. As we bid Thanksgiving adieu and welcome in the Holiday season there is still plenty of cooking to do. Don't be worried. I have just the recipe to please every guest at your holiday get-together. I bring to you a new take on a classic — Polenta. Crisping up the polenta turns an age-old classic Italian staple into a newfound treasure. The vibrant and hearty caponata, bursting with sweet notes of fig, crunchy pine nuts and tangy balsamic vinegar perfectly accentuates the dish.
Ingredients:
Polenta
4 cups Water
2½ cups Finely ground yellow cornmeal
4 Scallions, sliced thin on a bias
½ can of Fiesta corn niblets
2 tablespoons Butter
½ cup Buttermilk
½ tablespoon Salt and Black pepper to taste
1 cup Rice flour
2 cups Canola Oil (for frying)
Fig Caponata
1 tablespoon Extra-virgin olive oil
1 Celery stalk, small diced
½ Sweet onion, small diced
1 medium-sized Italian eggplant, medium diced
1 tablespoon Garlic, finely chopped
2 cups San Marzano Marinara Sauce
1 Jar Roasted red peppers, drained and small diced
½ cup of dried figs, medium dice
¼ cup Pine nuts, toasted
3 tablespoons Capers, drained and rinsed
2½ tablespoons Aged Balsamic Vinegar (or 1½ tablespoons of Balsamic glaze)
20 Basil leaves, chiffonade
Salt and Black Pepper to taste
Method of Preparation:
1. Bring the water along with 2 teaspoons of salt to a boil in a medium saucepan. Once the water is boiling gradually add 1½ cups of the cornmeal while whisking. Make sure to reserve the other cup for breading our finished polenta later. Once the cornmeal has been whisked into the salted water reduce the heat down to low and switch over to a wooden spoon. Continue stirring the polenta for about 20-25 minutes or until it is smooth and pulling away from the sides of the pot. Stir in the scallions, corn niblets, butter, buttermilk, salt and pepper.
2. Line a brownie pan with plastic wrap, making sure it overlaps the sides of the pan. Pour the finished polenta into the pan and smooth it into an even layer. Place polenta in the refrigerator for a minimum of 1 hour. Once set and firm, lift the polenta out of the pan using the plastic wrap and place it onto a cutting board. Proceed to cut the polenta into rectangles of equal size.
3. In a medium-sized bowl whisk together the remaining cornmeal and rice flour. Lightly coat each portion of polenta in the mixture and set pieces aside on a sheet tray lined with aluminum foil. Place a large sauté pan over high heat and add the canola oil. Once the oil is hot gently place the polenta so as to not splash the hot oil. Give the polenta 30 seconds-1 minute to brown before flipping over and browning on the other side. Have a sheet tray lined with paper towels to place the finished polenta on. Add a pinch of salt and some freshly cracked pepper on top and serve.
4. For the caponata place a medium-sized saucepan over medium heat. Add the olive oil and allow it to get hot before adding the celery and onion. Sweat them down until translucent, about 1-2 minutes, then add in the eggplant. Occasionally stir the mixture until the eggplant is soft. Add the garlic and continue cooking for another 1-2 minutes. Stir in the marinara sauce and the remaining ingredients. Bring the pan down to low and allow it to simmer for 15-20 minutes. Taste the sauce for seasoning and adjust as necessary.
5. To serve spoon the fig caponata sauce over the polenta and garnish with some small basil leaves.
Lucio C. Battista is a graduate of Johnson and Wales University with a Bachelor's in Culinary Nutrition and a Master of Arts in Teaching. He can be found cooking in kitchens all over Westchester County as a personal chef and can be reached at lbattista9823@optimum.net.