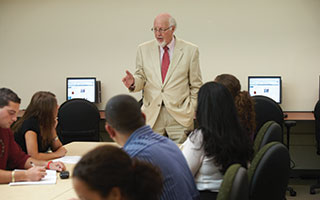 The days of working for one company, or even having one career for life, are past.  Equally long gone is the era when a successful career did not require higher education. Gearing up with a graduate degree before entering the workplace most often translates into a higher starting salary and increased opportunity. 
By the same token, shifting gears in mid-career is highly dependent upon the acquisition of new skills and credentials developed when pursuing a graduate degree.
At right, Dr. Lynn Johnson instructs LIU Hudson at Westchester MBA students.
LIU Hudson, a local branch of Long Island University, provides up-to-date graduate study for both those seeking an advantage upon entering the workforce, as well as those undertaking a career change.  Graduate study at LIU Hudson at locations in Rockland and  Westchester, or at the Educational Site at West Point,  is aimed solely at the adult student seeking professional study.
Offering Master's degrees and advanced certificates leading to a variety of careers, LIU Hudson's MBA and MPA degrees, for example, are paths to advancement in the corporate, not-for-profit, and government spheres.  The MS in Industrial Pharmacy or Cosmetic Science provides the key to employment in the burgeoning pharmaceutics and cosmetics fields. Likewise, mental health counselors, marriage and family therapists, school counselors and psychologists require Master's degrees for State credentialing.
Nothing speaks more eloquently to the power of graduate study than the words of LIU Hudson students.  Marlo Asencio, a recent LIU Hudson graduate, who is Human Resources Director at Burke Rehabilitation Hospital, explains, "With the core MBA courses as a foundation, the healthcare management concentration has helped me build on my previous hospital experience and has provided me with a more well-rounded perspective on the challenges we are currently facing in health care."
MPA graduate Bernadette Hogan, Nurse Manager of the Telemetry Unit of Phelps Memorial Hospital, articulates the strengths and advantages of her LIU Hudson experience when she says, "I wanted to attend a recognized college with a fantastic reputation and obtain my Master's Degree. LIU was the place to do this. I immediately felt at home and supported by all faculty."
When it comes to real life experience working in the pharmaceutical industry, Matthew Hildebrand, M.S. Pharmaceutics, 2011, speaks to the usefulness of the degree he earned and its significance in his life. "The education provided to me at LIU Hudson at Rockland's Pharmaceutics graduate program was frequently challenging, but well taught and rewarding.  I apply the knowledge learned on a regular basis in my role as the Director of Regulatory Affairs for a generic pharmaceutical manufacturer. The Master's degree was a valuable investment for my professional future."
By the same token, walk into any public school in the region and you will likely find a principal, a school psychologist, a guidance counselor or a cadre of teachers who earned their degrees and professional credentials through LIU.  Whether teaching in a kindergarten class or an advanced placement chemistry class, whether shepherding a high school student through the college selection process or offering guidance to youngsters transitioning from elementary to middle school, LIU Hudson graduates are productive contributors to the strength of our communities.
Undergraduate study is broad and deep.  It is a time when various academic disciplines can be explored.  Graduate work, particularly that which is focused on the professions, is fundamentally different.  Whether pursuing a Master's degree or an advanced certificate, the graduate student generally has personal and professional career goals that require more than a Bachelor's degree. Offering nothing but graduate study allows LIU Hudson to meet the unique needs of adult learners. Unlike the wide-ranging undergraduate experience, high quality graduate study requires mentoring, career guidance and coursework in preparation for successful workforce entry and advancement.
Dean and Chief Operating Officer Dr. Sylvia Blake explains that "LIU Hudson is differentiated by the emphasis it places on personal service.  Our faculty do all of the advising in all of our programs because they are in the best position to know what is happening in the real world beyond the ivory tower.  Regardless of the area of study – whether it's mental health counseling, teaching, health administration, cosmetic science, or any of the other programs we offer – our faculty mentors advise and guide, as well as teach.  What sets LIU Hudson apart are those one-on-one relationships that can only flourish in the kind of nurturing environment that Long Island University has created in its regional campuses."
For more information call 914-831-2700 or 845-450-5414.