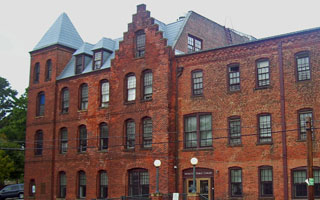 Irvington has now for some time been talking, planning and undertaking steps to make the character of its Main Street more appealing and inviting for those who visit what many consider a steep grade on foot. Compared to the Villages north and south of it, Irvington's Main Street presents unique challenges.
River Journal recently spoke with Larry Schopfer, Irvington's Administrator, who, as always, was candid and forthcoming about what's being entertained or done to make Irvington more attractive to residents and visitors alike.
RJ. What is (or are) the goal/s for Irvington's Streetscape Project?
LS. The Board wants to transform Main Street into a welcoming destination for residents and visitors by creating a safe, traffic- and pedestrian-friendly environment.
RJ. What monies will this project require from either the Village or from grants? What has been spent so far and what is projected dollar-wise in the current fiscal year?
LS. Irvington is not implementing the Main Street streetscape  plan all at once.  It wouldn't be economically feasible.  We are focusing on a few select areas.  So far, we are working on obtaining grant money to implement the "Aqueduct Crossing" project.  This is an improved connection to and across Main Street by the Old Croton Aqueduct.  This is a roughly $600k project for which we submitted a consolidated funding grant application to NYS.  We have not heard yet.  We also have smaller grant applications to help place additional benches on Main Street.
RJ. Is there a timetable for visual enhancements or quantifiable changes to the character of Irvington's downtown district? Can anything be seen as different in the downtown area?
LS. We're working diligently on it.  We hope to have some projects underway by the spring, depending on the results of our grant applications (as described above).
RJ. What feedback (if any) has the Village gotten about their Traffic Safety Program? LS. It's all positive.  Residents, employees, community organizations, and neighborhood groups have all embraced the program and are actively promoting it.
RJ. What aspects of the Program are in place and what aspects will be put in place?
LS. It is mostly a public relations program and was actively kicked off in September. It has included handing out informational cards to drivers, social media promotion, web site and email messages, posters, and bumper stickers.
RJ. Is there an additional cost to taxpayers for this program? If not, how is it funded?
LS. The Village has funded approximately $7,500 to help implement the program.
RJ. Does the Village see this Program having a shelf life or is it ongoing, and if so what will be the phases through the current fiscal year?
LS. It [the Traffic Safety Program] is an attempt to create an ongoing, sustainable culture change. 
RJ. With the Village Budget process getting underway within a month or so please explain the  less than 1% tax cap in effect.
LS. There is no other way to describe the effect of a less than 1% tax cap.  It will be a very tough year for the Village to remain within the cap, as it has been every year since its inception.  Time will tell.
RJ. What areas may the cap affect regarding Village services to residents?
LS. I can't say right now. But, I would say that all possibilities are open.