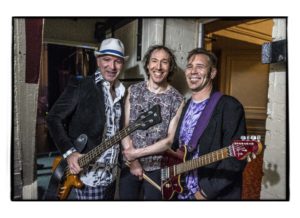 When Kofi Baker was a young boy, his father, legendary Cream co-founder – along with Jack Bruce and Eric Clapton – and, many would say, one of the meanest men in rock n roll, taught him how to play drums. "If your dad's a glass blower or whatever they do, you want to keep the tradition going, especially if it's something that they've done really well," said Kofi. "My dad taught me to play the drums as a kid, from age three. You think, especially as you grow older, 'Wouldn't it be great to have a relationship with your dad based on carrying on the tradition.' But my dad is just like, 'F-off.'" 
Despite the strained relationship, Kofi, along with Bruce's son Malcolm and Clapton's nephew Will Johns, formed a band to celebrate the iconic music of Cream. Called The Music of Cream – 50th Anniversary World Tour, the trio hit the Tarrytown Music Hall stage on Friday, March 29. 
Although the band plays all the Cream songs you know and love, including "Sunshine of Your Love," "Crossroads," "Spoonful," and "White Room," don't expect to hear a tribute band playing the songs like they sounded on the original vinyl recordings. 
"Cream played different every night," noted Baker. "They were about musicianship and playing. Which is what I've grown up doing, playing jazz and fusion. And Malcolm is the same, a free-form jazz, instrumentalist player. So we decided to take what Cream was doing and carry it on. We're not a tribute or copy band. We're not copying what they did, we're carrying it forward." 
Whether you love Cream or never heard the original songs, if you're a fan of great musicians, classic rock, improvisation and jam bands, this is a can't-miss show coming to the River Towns. Featuring video of the original band on the big screen, along with never-before-seen footage and photos, the 50th Anniversary Tour gives some of rock's most iconic songs a new lease on life. 
The Music of Cream – 50th Anniversary World Tour, Tarrytown Music Hall, March 29. Get tickets HERE.