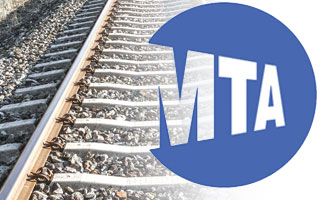 The Metropolitan Transportation Authority (MTA) and MTA Metro-North Railroad today announced that Metro-North has received a federal grant of $20.8 million to harden Metro-North's Hudson Line against future storm surge flooding events of the type experienced during Superstorm Sandy.
The grant will be used to design and build 92 elevated steel equipment platforms along 30 miles of track from the South Bronx to Croton-Harmon, in Westchester County, as well as provide for the design and construction of perimeter protection, waterproofing, hardening of substations and train yard buildings, and installation of video and electronic monitoring of Metro-North facilities and infrastructure. The grant will be matched by $6.9 million in MTA funds.
More than 50 percent of the Hudson Line right-of-way was completely submerged during Superstorm Sandy, and power, communications and signal systems that were flooded by salt water were significantly damaged. The storm surge damaged or destroyed fiber optic cables, signal system components such as circuit boards, racks, and relays, and communication infrastructure such as radio base stations.
Metro-North intends to place its communications, power and signal electrical components on raised steel platforms in an effort to prevent damage from corrosive salt water in the event of another storm surge along the Hudson Line in the next 50 years. The equipment to be raised includes third rail switches, cases for snow melters, signal power transformers and communications systems pedestals.
"Our trains cannot run without live signals, third rail power, and communications systems," said Metro-North Railroad President Joseph Giulietti. "We are extremely grateful for this critical systems grant, which will significantly reduce the likelihood that Metro-North could again experience the magnitude of damage to our electrical infrastructure that we faced after Sandy. This grant will enable us to protect our equipment from future storms."
The grant was awarded through a competitive application process by the Federal Transit Administration through Section 5324 of the Disaster Relief Appropriations Act of 2013, enacted by Congress in the wake of Superstorm Sandy.
Members of New York's Congressional Delegation offered these comments.
"Superstorm Sandy walloped our tracks, electrical systems, rail equipment and more and this federal funding will help make our transit system more resilient without leaving local commuters on the hook for these expenses," said Senator Charles E. Schumer. "This massive federal investment means that Hudson River line riders can rest assured that their rail system will be stronger and more resilient in the event of a future storm."
"This critical federal funding will help provide much needed resources to facilitate upgrades on the Hudson Line," said Senator Kirsten Gillibrand. "Superstorm Sandy devastated our communities and these funds will help rebuild our transportation infrastructure even stronger and more resilient so that the New Yorkers who rely on Metro North to get to work every day can have the peace of mind knowing we are better prepared for when the next storm hits."
"I lead the fight to secure $60 billion in federal funds to recover from Sandy, and I'm pleased that this grant will help Metro-North's Hudson Line withstand severe weather events in the future," said Congresswoman Nita Lowey. "Upgrading and protecting our transportation infrastructure will enhance overall safety and improve recovery times. As Ranking Member of the House Appropriations Committee, I will continue working with local officials to ensure New York's resiliency needs are met."
"Superstorm Sandy was a wake-up call for the entire Lower Hudson Valley that more needs to be done to strengthen our transportation infrastructure against the threat of powerful storms," said Congressman Eliot Engel, a senior member of the House Energy and Commerce Committee. "The Metro-North Hudson Line runs the entire western border of my district, and thousands of my constituents, from Hastings to Yonkers to Spuyten Duyvil, utilize that line every day to travel to and from work. The economic success of the entire region relies on our ability to ensure a highly functional and efficient transportation network. Our railways are an incredibly important facet of that. This $20 million federal grant is critical for Metro North to protect the Hudson Line from storm surges and flooding, and I am pleased that the FTA has acted to address this important need."