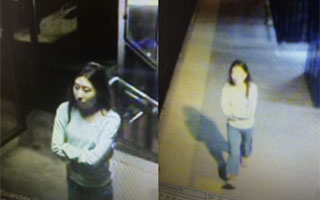 Thank you police department, Edgemont Cares community for helping to find missing teen! A very happy ending to a stressful week. Christine was located in Manhattan at Saint Agnes Church 143 East 43rd Street.  Christine is safe and is in the custody of the Metropolitan Transportation Authority.
Greenburgh Police Chief Chris McNerney, Edgemont Cares Community representative Aubrey Graf-Daniels and the parents of missing teen Christine (Ji Woo) Kang  and I were meeting to discuss strategies to enhance the chances of finding Christine early this evening.  Toward the end of our meeting we received a phone call from one of the Greenburgh police detectives assigned to the case—-Christine is safe. The Greenburgh Police Detectives assigned to this case are on their way to pick up Christine. It's a moment one never forgets. The parents, Min Jong Kang and Hyeeun Rose Kwon- were overjoyed. Lots of hugging and tears of joy.
This was a combined effort of the Greenburgh Police, MTA police, members of the Edgemont Cares community and the media resulting in the an individual at Saint Agnes Church recognizing Christine from a "missing flyer" and contacting the police. Over 200 individuals from the Edgemont community responded to calls for help in Manhattan yesterday to post "Missing Flyers". Their efforts worked. This initiative was organized by Edgemont Cares community leader Aubrey Graf-Daniels, one of the real heroes in the effort to find Christine and bring her back to safety.  Edgemont high school students also participated in the effort to locate Christine. I would also like to thank Chief Chris McNerney for giving this effort his highest priority attention. I am sure that I speak for all Greenburgh residents in thanking the hard working police department for their hard work, dedication and outstanding abilities.