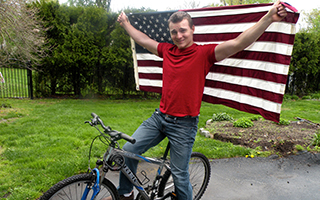 If you have a beach house in the Hamptons then you already know what you will be doing over Memorial Day weekend. For the rest of us we will be, more often than not, making last minute plans, because Memorial Day just has a way of coming up too fast. It's always way in the future until it is only a few days away.  There is nothing wrong with staying home and cleaning the barbeque grill and relaxing but here is a list of ideas should you decide you would like to celebrate the holiday that marks the unofficial beginning of summer. Most of these are nearby, but some may be intriguing enough to be worth driving a little farther.
IN AND ON THE WATER
Hudson Cruises. Sightseeing cruises down the Hudson River. Available on  5/24-26 from 1pm-2:30, leaving from Hudson, NY. Call Zerve to reserve tickets.  518-348-8993.
Hudson River Recreation offers kayaking and stand-up paddle boarding, rentals and instruction.  Three-hour kayak tours to Sleepy Hollow from 9am-noon and 1-4pm as well as a two-hour sunset tour from 6:30-8:30pm. Go to www.kayakhudson.com for more information.
May 25, Wildquack Duck River Festival, Jackson Village Park, Jackson, NH. This will be the 25th running of the ducks as 3,500 yellow rubber duckies are released to race downstream to the finish line. The event includes the full festival experience with food, music and yes, yellow duck paraphernalia. The event goes from 8am to 4pm. For reservations call 603-383-9356.
May 25, White Water Rafting on the Dead River. This is as far away as this list will go, but rafting on this river can be a thrilling adventure. This day, however, there will be one of a few special dam controlled high water releases which offers class IV excitement. This is not for the inexperienced. There are many outfitters in the Forks area who offer rafting rentals. Google "The Forks, Maine" for a list of them.
May 24, 25, 26, Fleet Week Cruise; Military History of New York Harbor During WWII. 2.5-hour cruises leaving from Chelsea Piers, near 22nd Street on the Hudson River. Veterans of World War ll cruise for free.  For more information  go to www.sail-nyc.com They also have schooner and yacht cruises available, including a 9-hour cruise to Bear Mountain and back again.
BY THE WATER
May 24,25,26, Annual Lobster Days, Mystic Seaport, CT. Museum of America and the Sea, 75 Greenmanville Avenue, Mystic, CT. Enjoy lobster picnic-style under the museum's open air boat shed. Lobsters served with coleslaw, corn on the cob, lemonade or iced tea. There will be a cash bar and all proceeds will go to charity. You can purchase food and a museum visit with one ticket or just purchase a food ticket separately. If you go on the 26th you can catch the annual Decoration Day ceremony which is a tribute to fallen civil war soldiers at the museum. Costumed role players will conduct an 1876 tribute and procession to honor the fallen at 10:30am. The lobster dinner will be served from 11am-4pm on all three days.
May 23-26, Wildwood International Kite Flying Festival, Wildwood New Jersey. This is the largest kite festival in North America. The event begins Friday at noon on the beach at Roberts Avenue with the opening of the Festival tent and a nighttime illuminated kite fly at the beach and Rio Grande Avenue. Saturday and Sunday include East Coast Stunt Championships on the beach starting at 9am as well as exhibits and workshops. For more information go to www.SkyFestivals.com.
BIKING, HIKING, AND RUNNING
May 26, 7th Annual Friends of Briarcliff Manor Memorial Day 5K Run/Walk Registration is on-line or at Law Park Pavilion where it begins. The event starts at 8:30am, so be there earlier to register. Memorial Day Weekend bike ride from Manhattan to Bear Mountain and Harriman State Park and back again. Saturday. May 24, 9 am to Monday, May 26, 6 pm. $160 each, includes daily breakfast and dinner. Call 718-217-0045 for more info.
Storm King Adventure Tours, Cornwall-on-Hudson offers hiking and kayaking options further north. Call 845-534-7800 for details.
DRINKING AND FARMING
May 26, The 3rd Annual Bud Break Sheep Shearing Festival and Vintage 5K Run will be held at the Benmarl Winery, 165 Highland Avenue, Marlboro, NY 12542. Everything but the 5K run will take place from 12noon-6pm on Monday. Run time has not been set but it will be earlier in the day so check with the winery about times. This is an opportunity to relax on the lawn, drink wine and listen to live music while watching sheep sheering demonstrations. The cost is $5 per person with food and wine purchased separately.
May 24, Botanical Beverages Class at Stone Barns Center for Food and Agriculture, 630 Bedford Road, Pocantico Hills, NY. A seasonal wine tasting experience where you will learn both wine and herb vocabulary and hone your ability to taste wine. Must be 21 years old or older. 3:30-4:30pm. Go to their website to sign up for the class. Members: $18.00 Adults: $20.00.
May 24, Backyard Organic Gardening Part 1 class at Stone Barns Center for Food and Agriculture, 630 Bedford Road, Pocantico Hills, NY. Learn to design a beautiful, productive, backyard garden. This is part one of a three-part series and is for all levels of gardeners. Go to their website to sign up for the class. Class will be held from 1-2:30 pm. Members $18.00 Adults: $20.00.
TOTS, TWEENS, AND TEENS
May 25, Greenburgh Nature Center: Bear Foot Storytime, Central Avenue, Hartsdale, NY. This hour-long program for children ages 2-6 begins at 2pm. There is a story, live animals and a nature activity. Members: $5.00, Non-Members: $8.00.
May 25, Kid's Open Mike at 12 Grapes Music and Wine Bar, 12 North Division Street, Peekskill, NY. 914-737-6624, 5:30-7:30 pm.  Family fun includes a $10.00 burger special. Talented singers and musicians ages 5-17 should bring their own instruments. They provide a drum kit, keyboard, guitar, and bass amps and microphones. Sign up begins at 5:30pm. An adult must accompany kids under 15. Reserve a table for your family early, as this is a popular event.
Alamo Drafthouse, 2548 Central Park Avenue, Yonkers, NY. Named the best movie theater ever by Time Magazine, the Alamo Drafthouse is everything you ever wanted in a movie theater.  The video and audio technology is state-of-the-art exceptional; they serve food ( ie. burgers, wraps, unlimited popcorn) beer and wine and mixed drinks. You can reserve a seat so you don't have to stand in line. You are not allowed to text, talk or have a phone conversation during the show.  They also offer children's movies during the day, called Alamo Kids Camp, which are free.
Here is what is playing over the Memorial Day weekend:
Friday, 10pm Return of the Living Dead. Saturday:  May 24, 11am Alamo Kids Camp, Mousehunt;  10 pm, Totally 80's Sing Along Dance Party. Sunday, May 25; 11am Alamo Kids Camp Mousehunt.  9pm, The Matrix. On Monday at 11am there is another showing of Mousehunt, but there is no evening show.
Lightscapes, Van Cortlandt Manor, Croton-on-Hudson. www.hudsonvalley.org This is brought to you by creators of the Halloween sensation, "Blaze." Using sculpture, lights, sounds, and special effects they have created an otherworldly woodland garden of fairies, flowers and creatures. Tickets available for May 23 at 8:30 pm and May 25 at 10 pm.
Intrepid Sea, Air, and Space Museum is offering special programs for Memorial Day weekend at Pier 86 in New York. On Friday, May 23, there is a Coast Guard Drill demonstration at 1pm and at 7:30pm there is a free screening of the movie, "Top Gun," under the stars on the flight deck. Bring blankets chairs and picnic baskets, only no alcoholic drinks. No admission after 8pm. On Saturday there are hands-on demonstrations and displays from 10am to 6pm and an evening performance by USO Show Troupe, TBD. On Sunday the demonstrations continue from 10am-6pm. The evening performances will include music from Rock of Ages, The Manhattan Dolls and the USO Show Troupe, TBD. On Monday the displays continue from 10am-6pm and at 11am there will be the annual Memorial Day ceremony, which includes unfurling of a 100-foot flag, rifle salutes, and the playing of echo taps.
TWENTY SOMETHINGS AND WANNABES
May 25, Amazing New York Scavenger Hunt-Fleet Week. Sponsored by Pogo Events, you can  sign up on-line at www.pogoevents.com to participate in this race across New York City, solving puzzles, overcoming challenges. Register as an individual or a team. The cost is $20.00 per person. Meet at the Village Pourhouse in NoHo by 12:30pm.
Mysteryland 2014 Memorial Day Concert (and camping!) at the old Woodstock site in Bethel Woods, New York. Friday, May 23, pre-party hours 6pm-2am, Saturday 1pm-2am, Sun 1pm to 2am. Must be 21, no exceptions.
Electric Daisy Concert, May 24 and 25, Met Life Stadium, Rutherford, NJ. 18 years old or over. www.electricdaisycarnival.com/NewYork/
Geek Pride Day, May 25, there is no real age requirement here, you just need to define yourself as a geek. Are you into board games, bingo games for free, anime, steam punk, zombie tag and giant Jenga sets? This is the event for you. There is also a barbeque and music. The hours are from 11am to 7pm at the Croton Point Park. Tickets must be purchased ahead of time. Contact www.westchestergeeks.com for more information.
ANTIQUES AND ART
May 26, Memorial Day Antiques and Farmers Holiday Outdoor Market, Pound Ridge/Scotts Corner, 9am-5pm. Antiques and Collectibles.
Katonah Museum of Art exhibition of the collaboration between Jasper Johns and master printer, John Lund. Open Saturday, May 24, 10am-5pm and Sunday, May 25, 12noon-5pm.
Madelyn Jordan Fine Art Gallery, 37 Popham Road, Scarsdale, NY. Exhibiting the works of Yangyang Pan, "Down the Rabbit Hole." Call 914-723-8738 for hours.
Neuberger Museum of Art, Purchase, NY featuring a 10-year retrospective of the digitally animated works of South African artist, Robin Rhode. Call 914-251-6100 for hours.
ArtsWestchester in White Plains presents newest exhibit called STEAM (science, technology, engineering, and mathematics) in celebration of the 20th anniversary of the Westchester Community College Center for the Digital Arts in Peekskill. Twenty-six artists using the STEAM motif are represented. 31 Mamaroneck Avenue, White Plains, NY. Call 914-428-4220 for hours.
Woodstock/New Paltz Arts and Crafts Fair May24-26, 10am-5:30pm, Ulster County Fairgrounds in New Paltz. This very large and popular event offers demonstrations and activities for children as well.
ART AND SUCH IN NYC
The City is a great place to spend Memorial Day weekend. There are fairs, festivals and art everywhere. Here are a few of the many events:
Lower East Side Festival of the Arts: May 23-25. 155 1st Avenue. Free.
May Grand Central Spring Fair: 43rd Street from Lexington to 3rd Avenue. 10am-4pm.
Memorial Day Weekend Outdoors Art Exhibit, Washington Square, Greenwich Village, NY. May 24-26. 12noon-6pm. East 13th Street South
Crossroads of the World Festival, May 26, 43rd. Street, 10am-4pm.
Lexington Avenue Spring Festival, May 24, from 42nd  Street-57th Street, 10am-6 pm.
Liberty Street Fair, May 26, from Broadway toTrinity Place, 11am -6pm.