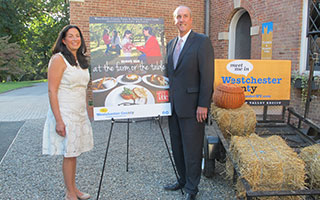 Leaf peeping, harvest festivals and a host of Halloween events for all ages are some of the ways to enjoy the festivities in Westchester County, the heart of the Hudson Valley.  "Westchester County has great attractions for residents and visitors to enjoy this fall," said County Executive Robert P. Astorino. "From frightful festivals and haunted hayrides, to orchards and authentic farm-to-table dining, there is no shortage of things to do for people of all ages."
At right, Natasha Caputo, Director of Westchester County Tourism & Film with Westchester Deputy County Executive Kevin Plunkett announced the fall attractions coming to Westchester County this year.
Natasha Caputo, Director of Westchester County Tourism & Film, added: "We invite visitors to come and discover our agriculture and food tourism efforts. We are pleased to announce our new media partner The Valley Table with the launch of the Westchester County Farms & Orchards Visitor Guide. Plan your getaway and 'meet me' at the farm or the table."
The digital version of the Westchester County Farms & Orchards Visitor Guide can be viewed by visiting http://www.bent-creative.com/westchester-tourism-brochure-flip/.
Upcoming activities and events are highlighted below:
Festivals, Fall Harvesting and Fun
Westchester County has festivals this fall season that will attract local residents and visitors alike, including the annual Southern Westchester (SoWe) Food and Wine Festival September 19-21. The event, attracting more than 25,000 people, is a premier, multi-day multi-location lifestyle festival, showcasing the offerings of Southern Westchester County. The event will feature a variety of activities including cooking demonstrations, competitions by celebrity chefs including Rocco DiSpirito and Dave DiBari, BBQ cook-offs, food trucks, concerts, book signings and participation by hundreds of restaurants, caterers, wine merchants, cheese mongers, and specialty culinary providers. The festival will take place in White Plains, Mamaroneck and Scarsdale. Tickets for each day vary in price. For more information, visit www.sowefwf.com.
Don't miss Oktoberfest in Westchester County. It kicks off in Sleepy Hollow on Saturday, September 27 at 1:00pm with food, live polka music, family activities and refreshments at Kingsland Point Park. Visit www.sleepyhollowny.gov for more information. Or, if you miss that event, travel to White Plains and join thousands of residents and visitors on October 12 in the heart of the city. Catered for the adult crowd, the festival will have German beers and food with live music on Mamaroneck Avenue. This event is sponsored by the White Plains Business Improvement District. Visit www.wpbid.com for more information.
The 3rd annual Hudson Hop and Harvest will take place on Saturday, October 4 at the Peekskill Riverfront Green Park featuring craft beer, live music, farm to table food and a farmers market. The event will take place from 2pm to 9pm and is free admission with pay as you go local fare. For more information, visit www.hudsonhopandharvest.com.
Autumn is all about harvesting, too. Take a ride over to Stone Barns Center for Food & Agriculture for its 11th Annual Harvest Fest Celebration and Fundraiser on Sunday, October, 5 from 10am to 3pm. Enjoy hayrides, food-crafting, farm demos, seasonal food and music. Stone Barns Center creates a healthy and sustainable food system, operating on an 80-acre farm in Pocantico Hills. Tickets are $40 for adults and $20 for children ages 2 to 14. For more information, visit www.stonebarnscenter.org or call 914-366-6200.
The Yonkers Film Festival (YoFi Fest), October 17-19, offers three days of all things film, including movies, music videos, lectures, Q&As, documentaries, student works, industry professional works and more. Guests will have the chance to see new works by emerging artists and filmmakers will be able to talk to their audiences. Building on the success of last year's festival, this year's YoFi Fest plans to screen more than 75 films including features, shorts, documentaries, animation and student work. For a limited time, tickets are available at YoFiFest.com at a special, advance purchase price of $60 for a full-festival, Three Day VIP Pass and $25 for a Single Day VIP Pass. These passes give guests access to all of the screenings, lectures, workshops, events and parties. The Yonkers Film Festival will take place at the Riverfront Library, located at 1 Larkin Plaza in Yonkers.
Spooky, Haunted and Falltastic
During the Halloween season this fall, visitors are invited to come to Sleepy Hollow Country, where there's so much to do, it's scary. Take a trip on the popular Sleepy Hollow Haunted Hayride, visit the Old Dutch Church and tour Sleepy Hollow Cemetery by lantern light. See some of the spookiest attractions and explore the great estates of the Hudson Valley, including Kykuit, Lyndhurst and Washington Irving's Sunnyside.
With the FOX TV series "Sleepy Hollow" airing its new season on Monday, September 22, many will feel brave enough to take the tale of The Legend of Sleepy Hollow to its darkest extremes with Horseman's Hollow. Located at Philipsburg Manor in Sleepy Hollow, the historic property is transformed into a terrifying landscape ruled by the undead, the evil and the insane. Visitors begin walking a haunted trail, stumbling upon scary scenes in a town driven mad by the Headless Horseman. Elaborate costumes and the work of award-winning feature-film makeup artists make it all too real (October 4-5, 10-12, 17-19, 24-26, 31 and November 1). Philipsburg Manor is located at 381 Bellwood Avenue in Sleepy Hollow. Tickets are $20, and $25 on Saturdays.
Get into the holiday spirit with fun activities and attractions happening in Westchester. The Great Jack O' Lantern Blaze is one of the tri-state's biggest, most exciting and electrifying events. See more than 5,000 individually hand-carved, illuminated jack o' lanterns in this elaborate walk-through experience at Van Cortlandt Manor. Suited for adults and children, meander through an historic, 18th-century riverside landscape and discover a breathtaking pumpkin display (October 4-5, 10-13, 16-19, 23-31 and November 1-2, 6-9, 14-16). Van Cortlandt Manor is located at 525 South Riverside Avenue in Croton on Hudson. Tickets are $20 for adults and $16 for children ages 3 to 17. Saturday tickets are $25 for adults and $20 for children.
Advanced tickets are required for The Great Jack O' Lantern Blaze and Horseman's Hollow. For more information, visit https://www.hudsonvalley.org/ or call 914-631-0089.
Adding to the variety of fall activities, Lyndhurst will host a fun house called Jay Ghoul's House of Curiosities: A Monster in Every Family. Experience a spooky tour of the Lyndhurst mansion and be introduced to characters. Guests will be able to see the spectacular gothic castle at night in a way rarely seen. Utilizing its historic gothic castle structure, the house will present a theatrical experience that is simultaneously eerie, scary and beautiful. Jay Ghoul's House of Curiosities will be open October 17-19. The performance is appropriate for all ages. Tickets are $25. Lyndhurst is located at 635 South Broadway in Tarrytown. For more information, visit www.lyndhurst.org or call 914-631-4481.
Stay & Play
Nearby, Tarrytown House Estate on the Hudson offers special packages for guests interested in visiting the area. Starting at $339 as part of the "Blaze" package, guests receive deluxe accommodations, an American breakfast for two at the Biddle Mansion, and two VIP tickets to The Great Jack O' Lantern Blaze. Starting at $345, guests receive the same amenities for the Horseman's Hollow package, including two tickets to the event. Tarrytown House Estate on the Hudson is located at 49 East Sunnyside Lane in Tarrytown. For more information, visit www.tarrytownhouseestate.com/new-york-hotel-packages.php or call 1-800-553-8118.
In addition, the DoubleTree by Hilton in Tarrytown is offering a fall package for The Great Jack O'Lantern Blaze, which includes VIP tickets to the attraction and an overnight stay with a welcome amenity and breakfast starting at $239 per person per night. The DoubleTree by Hilton is located at 455 South Broadway in Tarrytown. For more information, call 914-631-5700 or visit http://doubletree3.hilton.com/en/hotels/new-york/doubletree-by-hilton-hotel-tarrytown-TERHIDT/offers/100068400.htm.
Prepare for winter with the THANN Sanctuary Spa Winter Renewal Package to help lessen the effects of harsh winter weather and shorter days. The package includes almost four hours of five separate treatments carefully selected to boost the immune system, improve circulation, relieve tension, exfoliate and detoxify. The Winter Renewal Package is offered at $525 plus applicable taxes and service charge.  The package is available through January 4, 2015. THANN Sanctuary Spa is located at the Castle Hotel & Spa at 400 Benedict Avenue in Tarrytown. For more information, visit http://www.castlehotelandspa.com/ or call 914-524-6392.
More outdoor fun and adventures include:
Sleepy Hollow Cemetery Lantern Tours
Wednesday-Sunday evenings through November
Meet some of the famous and infamous residents of Sleepy Hollow Cemetery, all by the light of kerosene lanterns. Advance reservations required. Visit www.sleepyhollowcemetery.org. The cemetery is located at 540 North Broadway in Sleepy Hollow.
Washington Irving: The Legend Behind the "Legend"
October 4-5, 11-13, 18-19, 25-26, 31 and November 1-2
Tours of Sunnyside, Washington Irving's home, featuring objects related to the author's famous story. Weekends include shadow puppet performances of The Legend of Sleepy Hollow and spooky tales on a walk through the woods. For more information, call 914-366-6900 or visit www.hudsonvalley.org. Sunnyside is located at 9 West Sunnyside Lane in Tarrytown.
Irving's Legend at the Old Dutch Church
October 4-5, 10-12, 17-19, 24-26, 31 and November 1
Master storyteller Jonathan Kruk presents Washington Irving's classic tale, The Legend of Sleepy Hollow. Advanced sale timed tickets only: 914-366-6900, www.hudsonvalley.org,
381 North Broadway in Sleepy Hollow.
Muscoot Farm Annual Pumpkin Picking
October 12-13
Families are invited to come and pick the perfect pumpkins to carve for Halloween, or to use as a fall decoration. Participants have a choice of taking a hayride out back to the farm's pumpkin patch for a small fee of $2 per person, or walking down to the vegetable garden and picking their pumpkin there. Visit http://muscootfarm.org/ for more information.
Sleepy Hollow Halloween 10k Run
Saturday, October 18
šThe race starts at 9:30am in downtown Sleepy Hollow and runs past all the Village's historic landmarks. Kids one mile Fun Run starts at 9am. Costumes are encouraged.
To register go to www.rivertownrunners.org.
Choose from several itineraries ranging from Fall Family Fun, Field to Pasture and Spooky Spectacular Trails at http://escapes.visitwestchesterny.com/.  For more of the latest events and happenings in Westchester, log onto www.visitwestchesterny.com, like us on Facebook (facebook.com/westchestercountytourism), follow us on Twitter @westchestertour or call 1-800-833-9282. To view the Westchester County Destination Guide, please visit http://digital-editions.mediatwo.com/westchester-destination.
About Westchester County Tourism & Film
Tourism & Film is Westchester County's official destination marketing organization. Its mission is to generate economic benefits by enhancing the image and promoting Westchester County as a premier business and leisure destination in the Hudson Valley region. The Tourism & Film Office in Westchester County is a division within County Executive Robert P. Astorino's Office of Economic Development.