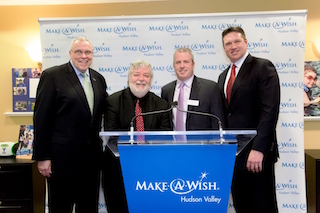 Stars from the worlds of Broadway, sports, business and broadcast  journalism, as well as supporters from all walks of life, will come out in force throughout 2016 to celebrate and make the 30th anniversary of Make-A-Wish® Hudson Valley its most successful fundraising year yet.
That was the key message on Monday, February 29, at a press conference announcing the non-profit's plans to present four high-profile signature events aimed at helping to grant wishes for the "real stars among us, the more than 150 children with life-threatening medical conditions whose courage burns brightest," said Thomas J. Conklin, President and CEO of the chapter.
Conklin noted that since the chapter was established in 1986, it has helped wishes come true for more than 2,400 children in the Hudson Valley counties of Delaware, Dutchess, Orange, Putnam, Rockland, Sullivan, Ulster and Westchester.  "But, over time, the costs of travel, accommodations, meals and other trip expenses have significantly increased, averaging now between $7,500 and $10,000 for each wish child," Conklin explained, adding: "That makes our 30th anniversary fundraising efforts and the generosity of our supporters more critical to the success of reaching our goal of granting a wish to every eligible child in the Hudson Valley."
He noted that the four signature events were designed with an eye for generating excitement among current and potential supporters.
The first will be "Frank and Friends," a concert of Broadway show music, which will be staged at 8 pm, Friday, April 8th at the historic Tarrytown Music Hall. It will be headlined by legendary Broadway composer and songwriter Frank Wildhorn. Known for both his musicals and popular songs including the number one international hit song, "Where Do Broken Hearts Go"—made famous by Whitney Houston – and the song "Gold", heard at the opening ceremonies of the 2002 Olympic Winter Games in Salt Lake City, Utah, in 1999 Wildhorn became the first composer to have three Broadway musicals running on Broadway simultaneously: Jekyll and Hyde, The Scarlet Pimpernel and The Civil War.
Scheduled to appear with Wildhorn at the benefit concert will be Rob Evan (Jekyll and Hyde, Les Miserables, Disney's Tarzan); Jeremy Jordan (Newsies, Rock of Ages, Bonnie and Clyde) and Laura Osnes (Grease, Cinderella, Bonnie and Clyde).
Details about the evening's program and ticket cost can be found online at hudson.wish.org/30 — the proceeds of which will go to Make-A-Wish® Hudson Valley.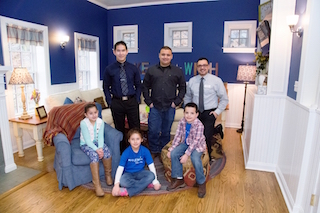 On Friday, May 13th, the year's biggest fundraiser—the annual Wish Ball—will get underway at another historic landmark, Abigail Kirsch at Tappan Hill Mansion, located on the former estate of Mark Twain. As in the past, Darlene Rodriguez of NBC's Today in New York and Mike Bennett of WHUD's Mike & Kacey in the Morning, are scheduled to serve as celebrity co-hosts for the evening's festivities. Active International's Global Chief Operating Officer, Bill Georges, has been named as this year's Wish Ball Honoree.
On Tuesday, August 30th, golf enthusiasts including some prominent individuals will tee off on behalf of Make-A-Wish® Hudson Valley from the historic Sleepy Hollow Country Club's golf course in Scarborough-on-Hudson in Briarcliff Manor.
Celebrating 30 years of wishes will dramatically conclude on Sunday, October 30th when an army of hundreds of supporters, including Wish kids and their families from throughout the Hudson Valley, converge at FDR State Park in Yorktown Heights to participate in the 11th Annual Walk/Run for Wishes. "As in the past, this will be the most visible and heart warming collective expression by our community of the hope, strength and joy that we have made possible in the lives of so many brave children and the impassioned commitment we share to continue this legacy in the years ahead," Conklin declared.
Throughout the year, the chapter will offer a number of opportunities to individuals, companies and organizations to support the four signature events including becoming a sponsor, making a donation and forming a team. As details are finalized, they will be communicated on the website, www.hudson.wish.org/30, on social media platforms, in e-blast messages and the media. Stay tuned.
About Make-A-Wish® Hudson Valley
Make-A-Wish® grants wishes to children with life-threatening medical conditions to enrich the human experience with hope, strength and joy. Since its inception in 1986, the chapter has granted wishes to over 2,400 children in the communities it serves. The wish experience is a combined community effort involving volunteers, staff, donors and medical professionals to make each wish come true. The Chapter is a proud participant of the Better Business Bureau Charity Seal Program, which indicates that the organization has met the 20 Standards for Charity Accountability. The Chapter serves Delaware, Dutchess, Orange, Putnam, Rockland, Sullivan, Ulster and Westchester counties. For more information about the Hudson Valley Chapter visit www.hudson.wish.org.