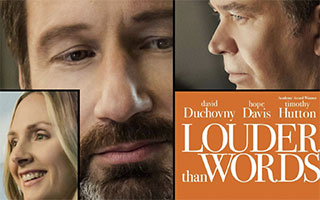 Louder Than Words
, an inspiring independent film based on the vision and evolution of Westchester County's Maria Fareri Children's Hospital, located in Valhalla, will debut at the AMC Loews movie theater in Port Chester on Friday, August 1 as part of national release roll out of the film. Starring actor David Duchovny,
Louder Than Words
chronicles the lives of John Fareri (played by Duchovny) and his wife, Brenda (played by Hope Davis), when their daughter, Maria, unexpectedly becomes seriously ill and is rushed to Westchester Medical Center. Doctors eventually discover that she has rabies, while the family had no knowledge she had even been in contact with a bat. By then it is too late to save her. Maria dies at the age of 13 in 1995.
Instead of being torn apart by their tragedy, the Fareris try to put their lives together and discover a way to honor their daughter – the creation of Maria Fareri Children's Hospital, which would help thousands of children and their families deal better with situations similar to theirs.
While mourning the death of their child, John and Brenda learned that as part of a school project Maria had expressed a special wish "for the health and well-being of all the children in the world." That thought served as an inspiration. With Maria as a guiding spirit, the family made a commitment to create a children's hospital at the Westchester Medical Center and began a multi-year effort to raise funds for the project. Despite encountering skepticism about the feasibility of such a large undertaking, they succeeded in raising funds, including donations from more than 20,000 members of the community, and the hospital opened in 2004.
"This is not an easy story to tell, the death of a child, a grieving family – but clearly, this was no ordinary family," said Film Director Anthony Fabian.  "It is essentially a love story about a mature, married couple. They are tested by the ultimate obstacle, the death of their child, and somehow, against all odds, their marriage not only survives, but strengthens. This was hugely uplifting – not a word I would normally associate with such tragic material."
Today, Maria Fareri Children's Hospital is a place where parents are not visitors but partners with the staff in the care of their children. The world-class, all-specialty pediatric hospital offers a unique physical environment for families, featuring a lobby with the world's largest dollhouse, a sports arcade, a performing arts stage and a walk-through aquarium. Its creative surroundings are a functional part of the healing process.
Serving more than 20,000 children each year, Maria Fareri Children's Hospital is home to the region's only intensive care unit designed specifically for pediatric care. It's state-of-the-art, most sophisticated Neonatal Intensive Care Unit is also the only one in the region. All of the rooms are private in-patient rooms with bathrooms, showers and parent sleeping areas. The Maria Fareri Children's Hospital is the only hospital in the nation named after a child.
"I am pleased that our story was depicted in such a touching and uplifting way. It is a story about hope and healing and shows that sometimes words cannot always heal, but that actions can," said John Fareri. "We hope that the power of fighting and redemption helps other families dealing with similar situations. We are so grateful for all who took part in putting this wonderful on-screen production together and we hope it touches the lives of others."
The film, based off of the story written by Benjamin Chapin, features other on-screen favorites, and some new faces to the big screen, including Timothy Hutton, Olivia Steele-Falconer, Adelaide Kane, Ben Rosenfield, and Morgan Griffin.
"There were wonderful, meaty roles that I knew would engage top-flight actors, and I could not have been happier with the casting, from the top down. Everyone who came into contact with the story was moved by its sensitivity and humanity," Fabian added. "I can only hope the final result does justice to such a complex and inspiring story."
The film, rated PG-13, was first premiered at the Hamptons International Film Festival in 2013. It is currently available on VOD and ITunes. Check local listings for theater show times.