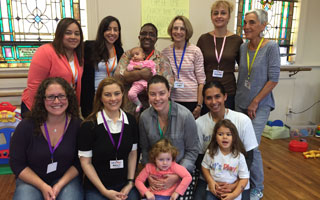 Tarrytown-based Parents Place shuttered its doors in June 2015, Westchester families, who for decades had brought their young children to the beloved institution, wondered if it was the end of an era.
Refusing to accept that it would be impossible to keep such a program alive, a group of dedicated moms has formed Let's Play! A Place for Families especially for families with children ages birth to five. Following a successful soft launch this past summer in Tarrytown's Patriots Park, Let's Play! is thrilled to have found a permanent home.  Programming is set for 9:30am-11:30am on Tuesdays, beginning November 3rd at the Tarrytown United Methodist Church located at 27 South Washington Street. The program is drop-in, with no pre-registration required. The fee is $15 per family, with scholarships available for those who qualify.
Let's Play! A Place for Families is a not-for profit organization comprised of local families and early childhood education specialists focused on providing a safe and nurturing environment where children play, learn, explore and develop the self confidence and skills they need to make decisions and solve problems. The program includes playtime, stories, songs, snack time and parent/caregiver discussion groups led by professional staff. 
Let's Play! has retained many of the Parents Place professional staff, who provide parents with the support system not normally found in traditional "mommy and me" classes.  Discussion groups held at each session are guided by early childhood education professionals and give parents and caregivers an opportunity to discuss parenting and family issues amongst fellow parents.  The environment is warm, supportive and encouraging. Bilingual (English/Spanish) staff will be available at each session.
"The mission of Let's Play! is to equip parents and caregivers with the support and advice they need to overcome the many challenges that come with raising young children," said Board member Amy Witmer. "We hope to offer more scholarships and expanded programming down the line, including support groups and events for special needs families."