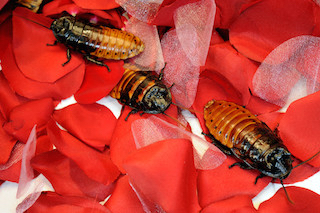 Love is like a roach – elusive, resilient, and sometimes scary. Valentine's Day is fast approaching and there is one last minute gift that will last forever. WCS's Bronx Zoo has brought back the Name-a-Roach – a light-hearted way to make sure your loved one knows your feelings will last a lifetime.
Seal it with a 'hiss' at www.bronxzoo.com/roach
Video Link: https://youtu.be/U7jmZQ6bed8
The original Name-a-Roach launched in 2011, and thousands of hopeless romantics from around the world have named real live Madagascar hissing cockroaches at WCS's Bronx Zoo after their favorite loved one, "ex," or mother-in-law. The zoo is again offering the opportunity to name a new crop of cockroaches for Valentine's Day 2016. Each gift comes with a colorful certificate emailed to your loved one announcing that a cockroach has been named in his or her honor.
For a $10 donation, your loved one, or unloved one, will receive a certificate to cherish for years to come, featuring the name chosen for your Valentine's roach.
The name-a-roach program is all in good fun and will help WCS save wildlife and wild places in New York and around the world. To participate, visit www.bronxzoo.com/roach.
The zoo has plenty of roaches to name with thousands of the super-sized bugs on exhibit in Madagascar!—an award-winning habitat for lemurs, crocodiles, and many other species from the African island nation.
Madagascar hissing cockroaches are the world's largest roach species reaching nearly four-inches long.  The namesake hissing noise is emitted as a defense mechanism.  Like nearly every roach species, Madagascar hissing cockroaches are not considered pests and rarely enter homes.
WCS (Wildlife Conservation Society)
MISSION: WCS saves wildlife and wild places worldwide through science, conservation action, education, and inspiring people to value nature. To achieve our mission, WCS, based at the Bronx Zoo, harnesses the power of its Global Conservation Program in nearly 60 nations and in all the world's oceans and its five wildlife parks in New York City, visited by 4 million people annually. WCS combines its expertise in the field, zoos, and aquarium to achieve its conservation mission. Visit: newsroom.wcs.org Follow: @WCSNewsroom. For more information: 347-840-1242.
The Wildlife Conservation Society's Bronx Zoo is open daily from 10:00 a.m. to 5:00 p.m. weekdays, 5:30 p.m. weekends from April to October; 10:00 a.m. to 4:30 p.m November to March. Adult admission is $16.95, children (3-12 years old) $12.95, children under 3 are free, seniors (65+) are $14.95. Parking is $15 for cars and $18 for buses. The Bronx Zoo is conveniently located off the Bronx River Parkway at Exit 6; by train via the #2 or #5 or by bus via the #9, #12, #19, #22, MetroNorth, or BxM11 Express Bus service (from Manhattan that stops just outside the gate.) To plan your trip, visit bronxzoo.com or call 718-367-1010. Follow @TheBronxZoo.