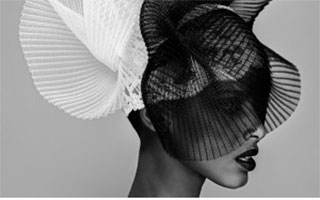 HATtitude: The Milliner in Culture & Couture Set to Open at ArtsWestchester in February. Hats are art according to ArtsWestchester, which will be showing fabulous, exciting, unique headwear from February 11- April 12, 2014 during HATtitude: The Milliner in Culture and Couture.
The exhibition will prove what the Duchess of Cambridge and Lady Gaga already know – that hats are more than mere accessories, they're the crowning glory of any fashion statement. Over 160 hats will be featured in this exhibition that has gathered over 40 contemporary milliners, many of whom are sought after by fashionistas around the world. Through hats that range from playful expressions of individuality to symbols of propriety or sculptural masterpieces, the show highlights the hat's function in global cultures, as well as its prominent position in 20th and 21st century couture fashion. An exciting calendar of engaging lectures by fashion and art historians rounds out additional, related programming. In addition, hands-on workshops led by exhibiting milliners will introduce the public of all ages to the art of hat making.
For more info, visit: www.artswestchester.org/hattitude
"According to an old saying," says ArtsWestchester CEO Janet Langsam, 'If you want to get ahead, wear a hat.' That's particularly true in today's day and age as hats are becoming more like works of art and fewer people are wearing them. So to stand out in the crowd, wear a hat."
A well-designed hat is as much a statement about its maker as is it about its wearer. At the heart of HATtitude is the milliner and the skills and creativity of the trade. Louise Green (Los Angeles, CA) of Louise Green Millinery is hat-maker to the stars, designing period-influenced headwear for television and movies. Among the celebrities she dresses are the cast of Gossip Girl; Seth Rogan in his role as the Green Hornet; and Taylor Swift, who wore a Louise Green top hat in her 2013 Grammy Awards performance. Catherine Stevens of Cat Stevens Derby Couture creates flamboyant, feathery fascinators and hats guaranteed to stand out within the race-track crowd and beyond. Alongside conventional hats made from traditional materials like fur felt or straw – are pieces that stretch the possibilities of the art of millinery.  Dramatic and fanciful sculptural pieces by milliners like Jasmin Zorlu (Brooklyn, NY) and Anya Caliendo (Brooklyn, NY) turn the head of their wearer into a pedestal. Mrs. Caliendo apprenticed under the famous British haute-couture milliner Stephen Jones and is the only American milliner invited to show at Mercedes Benz Fashion Week in New York.
Local milliners are featured prominently, including several who create pieces for clients in communities across multiple faiths. Cejunel "Sister CJ" Lewis and Carlos NY Hats of the Bronx are sought after by African American church-goers who want unique, runway-ready attire for their "Sunday Best." Rivka Zorbaron services the Scarsdale Jewish community and Sara Khan is known for her Middle Eastern head scarf designs. Rinati Lakel jewish headscarves are a must-have in a woman's collection. In HATtitude, functional hats, whimsical hats, hats from bygone eras and from different global cultures will all be on display, providing context for contemporary designs while examining the hat's enduring social significance.
The exhibition will also feature One Block, Many Milliners, a mini-exhibition within the larger show. The forty unique hats on display in this area were all formed from the same basic hat shape. The collection emphasizes the boundless creativity of milliners, who see endless artistic possibilities in a simple form. One Block, Many Milliners is organized by members of the Milliners Guild, an organization of small millinery business owners and milliners who specialize in the design, production and promotion of handmade headwear.
HATtitude: The Milliner in Culture & Couture is curated by Kathleen Reckling, MA; Judith Schwartz, PhD; and Thomas VanBuren, PhD, and is presented thanks to support from the New York State Council on the Arts and the New York Council for the Humanities.
The public is invited to attend an opening reception on Sunday, February 9, from 2-4:30pm.  Guests are encouraged to wear their most eye-catching headwear. If you don't have a hat, don't worry – fascinating pieces will be on sale in ArtsWestchester's Art Shop. RSVPs for the opening reception are required. Contact Lea Banks at LBanks@artswestchester.org or 914.428.4220 ext 330.
HAT-titude: The Milliner in Culture & Couture
Curated by:                           Kathleen Reckling, MA, Tom Van Buren, Ph.D. and Judith Schwartz, Ph.D.
On view:                                February 11 – April 12, 2014
Gallery Hours:                      Tuesday – Saturday, 12-5 pm
Opening Reception:           Sunday, February 9, 2-4:30 PM, RSVP required.
Docent and curator tours are available for groups of 20 or less. Please contact Lea Banks, Gallery Assistant, to book your group's visit.  LBanks@artswestchester.org or 914.428.4220 ext 330
Exhibiting Milliners:
Abigail Aldridch                                   Kathy Anderson                                   Linda Ashton
Moire Bagale                                       Melissa Bolin                                       Conney Borda
Anya Caliendo                                     Sally Caswell                                       Wanda J. Chambers
Ellen Christine Colon-Lugo              Nicole Cornell                                     Jill Courtmanche
Marie D'Antoni                                     Kimberly D'Auria                                  Anne Depasquale
Deana Gibbons                                   Louise Green                                      Christina Helmer
Jennifer Hoertz                                     Amanda John                                      KAR
Miki Katagiri                                          Patrick Kavanaugh                              Aaron Keppel
Kip Kirkendall                                       Marcia Lacher                                      Jacqueline Lamont
Grace E. Lee                                        Carlos Lewis                                        Cejunel Lewis
Janet Linville                                        Marcus Malchijah                                 Cigmond Meachen
Regina McCarthy                                Joanne Mooney                                     Linda Pagan
Evetta Petty                                           Cha Cha Pisani                                    Siripak Priyawat
Debra Rapoport                                   Ryan Elisabeth Reid                           Chris Rohmer
Park Shin Jeo                                       Lisa Shaub                                            Eunae Shim
Janet Sikirica                                        Paula Singleton                                    Judith Solodkin
Monika Stebbins                                  Barbara Volker                                      Rivka Zorbaron
Jasmin Zorlu
PUBLIC PROGRAMS ASSOCIATED WITH HATtitude:
Presented with support from the New York Council for the Humanities.
Thursday, February 13, 7:00-8:30pm
The 'Big Three' in the 1940s-1960s New York Hat Industry: Mr. John, Sally Victor and Lilly Dache
Lecture by Colleen Hill, Associate Curator of Accessories, The Museum at the Fashion Institute of
Technology, New York.
Thursday, February 27,  7:00-8:30pm
The Smithsonian Will to Adorn  Project and Folklife Research on Style and African American Hat Makers in the Bronx and Brooklyn
Lecture by Jade Banks, Folklorist, Mind-Builders Creative Arts Center, Bronx, NY.
Saturday, March 1, 1:00-3:00pm
Up-Cycling Sweaters Into Hats
Workshop with Debra Rapoport
Space is limited. Email LBanks@artswestcester.org to reserve your spot.
Saturday, March 1, 3:00 – 5:00pm
Dance Hats of Peru with the Ballet Folklórico Acuarelas del Peru
Performance and Demonstration: The folk and popular dances of Peru feature distinctive hats that identify the region and style.  Many are derived from functional hats that have taken on a cultural life of their own.  Choreographer Giovanna Cardenas will demonstrate and discuss use of selected hats in regional Peruvian performance, as members of the New Rochelle based dance troupe perform regional dances.
Thursday, March 6, 7pm
Studio Artists – Popular Culture – Vogue – Couture Artists: Who Were They and How They Got
Their Hats Out There
Lecture by Ellen Christine Colon-Lugo, Ph.D., Exhibiting Milliner and Historian of Millinery.
Thursday, March 13th, 7pm
A Look at the Origins of Head Coverings in the Middle East
Lecture by Nazanin Hedayat Munroe, M.A., M.F.A. Textile Artist and Art Historian.
Saturday, March 15th,1-3pm
Hat-Making with VIVA paper Towels
Workshop with Debra Rapoport
Space is limited. Email LBanks@artswestchester.org to reserve your spot.
For more information, visit:
www.artswestchester.org/hattitude