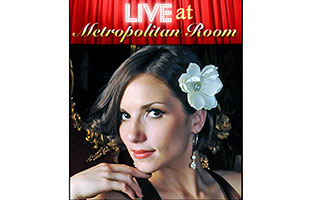 August 16th performance features sneak preview of new CD
.  Slip into a booth, sip a cocktail, and get ready to be captivated by jazz and blues chanteuse Vanessa Raci, who will preview her forthcoming CD at a special one-night-only performance at 7 p.m., Friday, August 16 at the prestigious jazz and cabaret venue The Metropolitan Room, 34 W. 22nd Street (between 5th and 6th Aves.), New York City, NY. Joined by a smokin' jazz ensemble, Vanessa will provide a sneak peek of the songs on her debut CD—a collaboration with acclaimed NYC jazz composer and pianist Glafkos Kontemeniotis. Vanessa will deliver an entertaining, eclectic array of tunes from Judy Garland to Joe Cocker. Tickets are $20, plus a two-drink minimum, and advance reservations are requested by calling 212-206-0440 or ordering at www.metropolitanroom.com.
Bringing to mind the elegant, enchanting singers of a bygone era (think Ella and Etta) as well as modern-day divas, Vanessa is quickly drawing acclaim around New York City for her powerhouse vocals and sizzling stage charisma. Growing up in an Italian-American household, she was raised on Frank Sinatra, Dean Martin, Louis Prima, and Connie Francis. Vanessa is keeping their legacy alive while bringing a fresh, blues-influenced take on the timeless jazz songbook—winning over audiences of all ages with her heartfelt performances. You won't want to miss this sophisticated, soulful evening of song from a fast-rising jazz star.
About Vanessa Raci
Inspired by the golden age of jazz vocalists and supper club-era sophistication, New York-based jazz and blues chanteuse Vanessa Raci captivates audiences with her "truly remarkable voice and style" (Mike Bennett, WHUD Radio). A versatile and engaging entertainer, her performances range from intimate vocal-piano sets to swinging with a full jazz band. Whether interpreting a classic standard or a contemporary power ballad, "She's a sensual stylist who pours herself into the song" (Bruce Apar, North County News). Vanessa is quickly making her mark, having appeared in New York City and area venues including the Metropolitan Room, Rye Playland's main stage, and the legendary Birdland, and backed by some of the area's top jazz musicians. She has held standing engagements at 230 Fifth in Manhattan, The Astor Room in Astoria, The Winery at St. George in Mohegan Lake, Vintage in White Plains, Division Street Grill in Peekskill, Club Car in Mamaroneck, and Don Coqui in New Rochelle. She also enjoys giving back by lending her voice ato benefits for organizations including the Make-A-Wish Foundation, the Ronald McDonald House, and the American Cancer Society. For more information, visit www.vanessasings.com