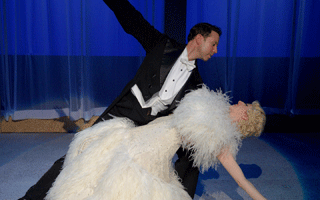 Photos by John Vecchiolla
Ginger Rogers will always be remembered as the cool, lithe blonde in the arms of Fred Astaire. But did you know she started as a dancer in vaudeville after winning a Charleston contest at age 15? That her first success on Broadway was in a show with Ethel Merman? Or that she won an Academy Award for best actress in 1940 in the dramatic tearjerker "Kitty Foyle"?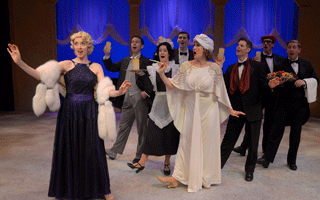 The amazing, real-life adventures of Ginger Rogers — all set to music — are the subject of Backwards in High Heels: The Ginger Musical.
Backwards in High Heels was conceived and developed in 2007 by Lynette Barkley and Christopher McGovern, with book, musical arrangements and original songs by McGovern. It features music from the '30s to showcase the major events in Ginger Roger's life. The Musical takes its title from a widely quoted quip from a 1982 "Frank & Ernest" cartoon about Astaire and Rogers: "Sure he was great, but don't forget that Ginger Rogers did everything he did — backwards and in high heels."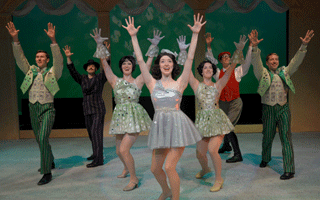 The show is a backstage look at the public and private life of this timeless beauty. The audience meets her as a precocious teen, seven years before she danced into America's hearts in a string of 1930s films, partnered with Fred Astaire. A trail blazer, Virginia Katharine McMath, won a Charleston contest in 1925 in her hometown of Fort Worth at age 15.  Her nickname, "Ginger," originated from her younger cousin who pronounced "Virginia" as "Ginja." Family and friends continued to call her this, and later "Ginger" became the name on the marquees. She eventually borrowed her stepfather, Daddy John's  last name of Rogers.  After successful stops in Chicago, Philly and Broadway, she headed to Los Angeles, where a contract with R.K.O. would turn her into a star. She won an Academy Award in 1940 for "Kitty Foyle" (ironically for an against type dramatic role) and by 1945, was the industry's highest paid star. She made 73 movies but it was her partnership with Astaire that revolutionized the genre.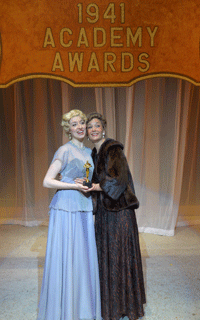 "The most important thing in anyone's life is to be giving something. The quality I can give is fun, joy and happiness. This is my gift."
– Ginger Rogers.