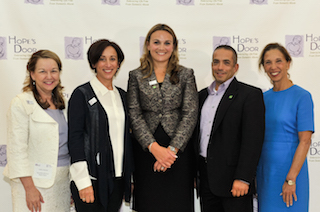 Hope's Door in Pleasantville, NY has been chosen again this year by The Allstate Foundation to participate as a Community Partner in their national online fundraising campaign called the Purple Purse Challenge.  The Challenge seeks to raise awareness about financial abuse and raises funds for important programs and services which help survivors of domestic violence achieve financial independence. 
Photo: Hope's Door Executive Director CarlLa Horton; Hope's Door Board of Directors President Debra Kousouros; Hope's Door Board of Directors member and TD Bank Vice President, Commercial Lending Jennifer Bonhomme; TD Bank Vice President, U.S. Field Marketing Strategy Eric Fishon; New York State Assemblywoman Amy Paulin.
"TD Bank is delighted to collaborate with Hope's Door on raising awareness about domestic violence to help victims achieve financial independence. TD Bank is committed to the community we serve and we are honored to be part of such a vital mission in serving the residents of Westchester," said Eric Fishon, TD Bank Vice President, U.S. Field Marketing Strategy.
"Supporting survivors of domestic violence is a natural extension of what we do at Allstate for our communities every day – protecting them from life's uncertainties," said Colleen Torpie, Thornwood Allstate Agency Owner. "The work of Hope's Door and other organizations that support financial empowerment for survivors of domestic violence helps abused women gain what all people deserve – a life free of violence, a safe home and a more hopeful future."
"We see every day how critical economic independence is to victims of domestic violence and their children," CarlLa Horton, Hope's Door Executive Director points out. "We must educate people to be financially independent even when they are in a healthy relationship. Each person should have equal access to all their investments and accounts. That is why this year at our Annual Fall Luncheon on October 14, 2016 at Elmwood Country Club, we are having a panel of experts speaking to just this issue."
"During my entire professional career I have fought to eradicate domestic violence. I am proud to stand with Hope's Door, an organization devoted to that effort, and its participation in this initiative, the Purple Purse Challenge, which will bring even more awareness to the horrors of violence against women," said Amy Paulin, New York State Assemblywoman.
"Domestic abuse is unacceptable. No one should have to live in fear of their life," said Terrence Murphy, New York State Senator. "I wholeheartedly support Hope's Door in their efforts to support The Allstate Foundation's Purple Purse Challenge. Through education, job training and readiness provided by funds raised through the Challenge, victims of domestic violence can be inspired to break free from their abusers."
The Hope's Door Next Step Economic Empowerment Program empowers survivors by helping them identify their goals and attain financial independence through educational and vocational training, as well as other support. Our Economic Empowerment Specialist Brenda Rodriguez helps participants develop a self-sufficiency plan tailored to their goals, strengths, and needs. She can assist with job readiness, resumés, interview techniques, financial literacy, and referrals to educational, vocational, and scholarship programs.
Rodriguez points out, "Financial abuse, using finances as a coercion to control a partner, happens just as frequently as physical or verbal abuse, yet three out of four Americans do not make the connection between financial abuse and domestic violence.  Most victims try to leave seven to eleven times before breaking away from an abuser.  Most victims remain in or return to an abusive relationship because they don't have the financial resources support themselves and their children.  Many times their joint assets have been emptied or changed."
For more information on the Purple Purse Challenge, contact Jennifer Ryan Safsel at 914-747-0828 x1005.  To make a donation go to www.crowdrise.com/HopesDoor-PurplePurse2016.