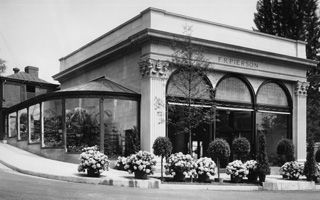 In cooperation with the Sleepy Hollow Cemetery Historic Fund, Tara Van Tassell and I have designed a tour of the cemetery, titled There Goes the Neighborhood, that introduces visitors to colorful locals and some of the world famous individuals who have made the cemetery their final resting place.
The two-hour tour explores the cemetery's historic paths and lanes while visiting author Washington Irving, local poet and eccentric Minna Irving, politician Jacob Odell, newspaper editor Daniel Van Tassell, wealthy industrialist Andrew Carnegie, and William Rockefeller, among many others.  The evening lantern tours will occur on October 15 and October 29 at 7 pm.  
In October, the Historical Society is also introducing a new community walking tour, The Ghosts of Tarry Hollow, where guides will introduce visitors to our fascinating former residents as well as many of the wonderful historic sites that are found in Tarrytown and Sleepy Hollow.
The proceeds of the community walking tours will assist the Society in preserving the history and artifacts of our two villages.  Please dress for the weather and wear sturdy walking shoes.  For tickets and information on all of the tours, please visit the website www.thehistoricalsociety.net.