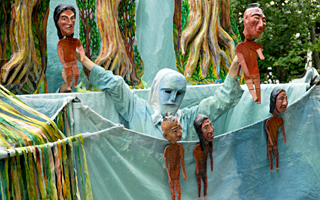 Visitors can win one of three Fujifilm cameras at Van Cortlandt Manor's River Day on Sunday, Aug. 1, by taking pictures and posting them on Flickr.com.
The festival-style River Day, which takes place from 12-6 and is sponsored by Fujifilm, is devoted to the history and ecology of the area's watershed. It features kayak rides, performances, and hands-on activities for all ages that teach children and adults about the area's fragile watershed.
Visitors are encouraged to bring their cameras, capture the event, and post their best work on Flickr for a chance to win one of three Fuji cameras. Top prize is a Fujifilm FinePix HS-10. Two runners-up will win a Fujifilm FinePix Z700EXR. Cameras provided by Fujifilm. Full details are online at www.hudsonvalley.org
River Day includes two theatrical performances. From 3-4pm, the Hudson River Ramblers will be performing "Once Upon the Hudson," a tour of more than 400 years of river heritage in authentic songs and primary source- based stories. Comprised of Jonathan Kruk, the raconteur renowned for telling "The Legend of Sleepy Hollow," and folksinger Rich Bala, the Hudson River Ramblers will put on a rollicking show featuring a cast of characters that includes a mythical giant, a doomed explorer, an obsessed inventor, a humble general, a pirate, an imp, a "spitting devil," and a mule named Sal.
From 2-3pm, the Arm-of-the-Sea theater group will be performing "City that Drinks the Mountain Sky." The group uses poetry, lusciously painted puppet figures, and beautiful mask characters in this production.
Musicians performing include Jim Keyes and Dan Einbender.
Local tree service experts, like tree service columbus ohio and SavATree, will be offering a wood-sawing activity throughout the day.
Hudson River Recreation will be performing kayak demonstrations during this celebration of the environment, allowing experienced kayakers to test drive new models while beginning kayakers can get their feet wet learning the sport.
"Both the Hudson River and the Croton River have been a source of commerce, travel, food, and recreation for centuries. Through games, workshops, and demonstrations, we'll delve into the past and present uses, thoughts, and concerns about these rivers," said Althea Corey, site director of Van Cortlandt Manor.
Costumed interpreters will demonstrate how 18th-century Hudson Valley residents performed such marine-related tasks as fishing and net making, and will demonstrate 18th-century tasks such as open-hearth cooking, coopering, brick making, and blacksmithing. Visitors will be encouraged to lend a hand.
Children's activities include tinsmithing, origami figures, pottery, bookmark making, and watercolor painting. Project WET organizes a children's game called the Incredible Journey.
A number of regional educational organizations and environmental advocacy groups are bringing hands-on educational activities to River Day, including Saw Mill River Audubon, Teatown Lake Reservation, Riverkeeper, Peekskill Boat Works, Ferry Sloops, and the Toll House Museum. Local expert archeologists MALFA will bring exhibits of artifacts from digs in the lower Hudson region. The Traditional Small Craft Association will display a wooden Adirondack guide boat. Picnic food from Geordanes in Irvington will be available.
The Croton River, which empties into the Hudson River about a half-mile past the Manor House on the Van Cortlandt estate, was used in the 18th century as a dynamic water source, powering gristmills and sawmills. The Van Cortlandt family kept its boats moored just beyond their icehouse, enabling the transportation of people and goods down the Hudson River. Today, the Hudson River is still a major transportation route for cargo ships to and from New York City and other locations. However, it is also a popular spot for fishing and boating during the spring, summer, and fall. To maximize the experience, you can check out the CN fishing tackle and bait discount code. Overall, the range of activities available on the Hudson River makes it a great alternative to conducting the same to enjoy the ocean waves and tides.
Admission to River Day at Van Cortlandt Manor is $12 for adults; $10 for seniors; $6 for children 5-17; and free for children under 5 and HHV members. Tickets are available online at www.hudsonvalley.org. Van Cortlandt Manor, a Historic Hudson Valley site, is at 525 South Riverside Avenue (off Route 9) in Croton-on-Hudson. For information call: 914-631-8200.