Historic Hudson Valley recently honored Kevin Burke and Con Edison with the 2009 HUDSON Valley Hero Award. Mark Rockefeller, Chairman of the Executive Committee of Historic Hudson Valley's Board of Trustees, presented the award at a gala dinner dance at the St. Regis in New York City on November 5, 2009.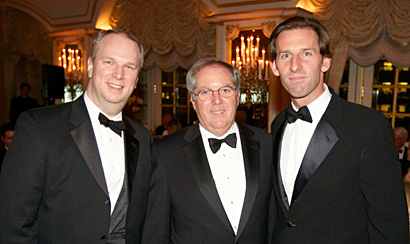 The event, which was attended by 150 guests, raised $410,000 for the nonprofit Historic Hudson Valley, an education and preservation organization which for more than fifty-eight years has celebrated the region's history, architecture, landscape, and culture.
As part of its commitment to Historic Hudson Valley, Mr. Burke announced at the gala that Con Edison will also contribute $75,000 toward restoration of the bridge and mill complex at Historic Hudson Valley's Philipsburg Manor in Sleepy Hollow, N.Y.
John D. Rockefeller, Jr. was the founder of Historic Hudson Valley, and Mr. Burke's achievements embody both the principles and spirit of Rockefeller philanthropy.
From the Battery to Northern Westchester, Con Edison has a long-established tradition of contributing to the social, cultural, and economic vitality of communities along the Hudson.
Under the leadership of Kevin Burke and his community affairs team, Con Edison has taken a proactive, hands-on approach to corporate philanthropy unrivaled in the Hudson Valley. Through good times and bad, the company has maintained a growing community presence.
Con Edison supports scores of organizations across the region working in the areas of education, the environment, arts and culture and neighborhood quality-of-life. The company's strategic grant-making is targeted to institutions and communities where the need is greatest — where charitable dollars will have the greatest impact and leverage.
Historic Hudson Valley has benefited from Con Edison's philanthropic support for more than twenty years. In addition to the grant for Philipsburg Manor restoration, Con Edison grants have made possible the Pinkster school education program and public festival, an African-American celebration of spring that is the centerpiece of programs on the history of slavery at Philipsburg Manor, as well as Riverweek, a new environmental day camp focusing on the Hudson and Croton Rivers.
Mr. Burke has been Chairman of the Board, President, and Chief Executive Officer of Con Edison since 2006, though he has been with the company for thirty-six years. He lends his talents to a number of boards, including the American Gas Association, the Economic Club of New York, the Edison Electric Institute, the New York State Business Council, the New York State Energy Research and Development Authority, the New York Botanical Garden, the Partnership for New York City, and the YMCA of Greater New York.