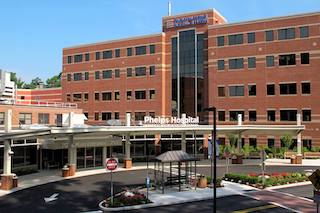 Phelps Hospital's Healthy Life series offers the community a wide range of programs on health-related subjects as well as numerous health screenings and support groups. All events are free and take place on the Phelps campus, 701 N. Broadway in Sleepy Hollow unless otherwise noted. The Phelps Healthy Life Calendar for July and August follows:
Tuesday, July 10, 24 and August 14, 28 – Holistic Pain Support Program
People suffering from chronic pain will have access to comprehensive pain management services including exercise, nutritional guidance, psychological support and complementary medicine practices. The July 10th session will feature a presentation on Pet Therapy and the role it plays in Pain Support. The July 24th session will feature a presentation from Dr. Huang who is the director of our pain management center at Phelps Hospital  At Phelps Hospital, Room 545 in the 755 Building, from 12:00 – 1:00 pm, on the 2nd and 4th Tuesday of the month.  Call 914-366-3937 or ewoods3@northwell.edu to register.
Thursday, July 12 – The Breakfast Club
The Breakfast Club, designed especially for seniors, includes a free breakfast, a presentation on a healthy lifestyle topic and a light exercise program. The group meets monthly except for August and December. The group meets from 8:30-10:30 am, in the Cafeteria (G Level) at Phelps Hospital, 701 North Broadway in Sleepy Hollow. Call 914-366-3937 or send an email to ewoods3@northwell.edu to register.
Thursday, July 12 and August 9- Osteoporosis Support and Education
A free monthly group program for individuals with osteoporosis, providing education on nutrition, exercise (weight-bearing, strengthening and balance), activities of daily living and treatment options. The sessions are held from 10:45 – 11:30am, the second Thursday of the month in the Boardroom (C Level) at Phelps Hospital, 701 North Broadway, Sleepy Hollow. Park behind the hospital and enter through the Auditorium entrance. Proceed down one flight to the C-Level.  The boardroom is at the end of the hall on the right. Call 914-366-3937 or send an email to ewoods3@northwell.edu to register.
Friday, July 13 and August 10 – Alzheimer's Caregivers Support Group
Caregiving for a loved one with Alzheimer's disease doesn't mean you have to go it alone. Join us and receive the emotional, educational and social support needed to successfully care for someone with dementia. Sponsored by Phelps, The Alzheimer's Association and the Visiting Nurse Association of the Hudson Valley, at Phelps Hospital, 755 North Broadway, Sleepy Hollow, Room 545 from 10:00 am – 12:00 pm. Call 914-366-3937 or send an email to  ewoods3@northwell.edu for more information or to register.
Tuesday, July 17 and August 21- Senior Steps
Offers health screenings for seniors on the third Tuesday of the month at various locations throughout Phelps Hospital. July's focus is blood pressure screening. The focus in August will be hand screening.  Both dates will be held from 10am-11am, in the 755 Building, Suite 225.  Appointments are required. For more information, call 914-366-3937 or send an email to ewoods3@northwell.edu to register.
Wednesday, July 25 – Spirituality Program Secondary Tales of First-Rate Women: A discussion of women known and less known, in the Bible
The spirituality program continues in July with the discussion about women in the Bible with Rev. Dr. Carole Johannsen.  At Phelps Hospital, 701 North Broadway, Sleepy Hollow from 9:00 – 10:30 am.  Call to register 914-366-3937 or send an email to ewoods3@northwell.edu.
Cancer Support Programs
Phelps Hospital offers a monthly series of cancer support programs for patients who will be receiving cancer treatment.  Topics are New Patient Orientation; Chemotherapy/Biotherapy Treatment Orientation and Patient Family Cancer Support Group.  Times and days vary, so please call for more information.  All programs are held on the Phelps campus in the 777 building, 1st floor, Radiation Medicine Conference Room. Call 914-366-1661 for information or to register.
Diabetes Educational Program for Adults
This two-session educational program for adults with diabetes is held every month at Phelps (date and time may vary). Learn what diabetes is, different medications available, how to prevent and manage complications, blood sugar targets, what foods to eat, how to count carbs and much more. Pre-registration and a physician referral are required. There may be a charge for this class, depending on insurance coverage. Please note that attendance at both classes is required.  For more information call 914-366-2270.
Updated calendar listings are available at www.phelpshospital.org.
About Phelps Hospital
Phelps Hospital, part of Northwell Health, is a full-service 238-bed acute care non-profit community hospital serving the residents of Sleepy Hollow, NY, and surrounding communities since 1956. With more than 1,700 employees and 500 medical staff members representing 60 medical specialties, Phelps offers one of the broadest ranges of community hospital services in Westchester County. Caring for the community is at the heart of what Phelps does.  Patients benefit from distinguished physicians, many of whom are pioneers in their field, offering the most advanced procedures using the latest technology.  www.phelpshospital.org. Phelps' primary and specialty care medical group, Phelps Medical Associates, has nearly 20 practices located on the hospital campus and in the surrounding communities. www.phelpsmedicalassociates.org.
On Facebook at https://www.facebook.com/PhelpsHospitalNorthwell/ and on Twitter at www.twitter.com/phelpshospital
About Northwell Health
Northwell Health is New York State's largest health care provider and private employer, with 23 hospitals, 665 outpatient facilities and more than 18,500 affiliated physicians. We care for over two million people annually in the New York metro area and beyond, thanks to philanthropic support from our communities. Our 66,000 employees – 16,000-plus nurses and 4,000 employed doctors, including members of Northwell Health Physician Partners – are working to change health care for the better. We're making breakthroughs in medicine at the Feinstein Institute for Medical Research. We're training the next generation of medical professionals at the visionary Donald and Barbara Zucker School of Medicine at Hofstra/Northwell and the Hofstra Northwell School of Graduate Nursing and Physician Assistant Studies. For information on our more than 100 medical specialties, visit Northwell.edu.