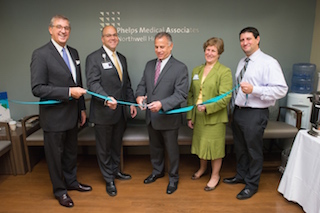 Phelps Medical Associates, the multi-specialty medical group created by Phelps Hospital, recently held a ribbon-cutting for a new state-of-the-art medical suite located in Tarrytown at 200 South Broadway. Speaking at the event, Phelps Board Chairman Richard Sinni of Irvington said, "This Tarrytown office is the seventh local office opened by Phelps Medical Associates in our surrounding communities. All of our Phelps Medical Associates sites are staffed by remarkable physicians who are building our outreach into the community we serve."
Photo: From left to right – Richard J. Sinni, Phelps chairman of the board; Daniel Blum, Phelps president & CEO; Michael Blau, Village Administrator, Tarrytown; Mayda Davis, Phelps Medical Associates practice coordinator; and Dominic Paruta, Phelps Medical Associates practice manager. All were on hand at the recent ribbon-cutting of the Phelps Medical Associates facility in Tarrytown.
Daniel Blum, President and CEO of Phelps, thanked the Village of Tarrytown for their support. "Although the healthcare environment is changing dramatically, Phelps remains focused as it always has on keeping patients at the center of everything we do.  This beautiful new facility in Tarrytown is the latest of a number of Phelps satellite offices that allow us to reach more deeply into the communities we serve.  Our offices provide convenient access to our services, backed up by Phelps hospital resources.  At the end of every day, it all comes down to Phelps' commitment to serve our patients and our community."
Michael Blau, Tarrytown Village Administrator, attended the event and welcomed Phelps to Tarrytown. "This is a beautiful facility and convenient to everyone who lives or works in Tarrytown. I know it will be well-used by residents of our village who depend on Phelps for providing excellent healthcare services."
Phelps Medical Associates physicians in the new Tarrytown office are all board certified in their specialties.  They include Shameela Chorny, MD, Internal Medicine; James Hellerman, MD, Endocrinology; and Farrah Gutwein, DO, Rheumatology.
For more information or appointments, visit www.phelpsmedicalassociates.org or call 914-269-1790.