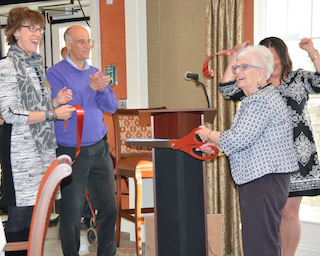 Residents, families, associates, local dignitaries and leaders from Brightview Senior Living's Home Office gathered on March 30 to celebrate the Grand Opening of Brightview Tarrytown – Brightview's first community in New York and third in the metropolitan New York City suburbs. "This is a special day," began Executive Director Deanna DiStassio.  "It's been amazing to watch residents and associates become a family in such a short amount of time."
General opening remarks were also made by Paul Feiner, Greenburgh Town Supervisor, and Brightview's President Marilynn Duker.
Photo: Brightview Senior Living's President Marilynn Duker, Greenburgh Town Supervisor Paul Feiner join Marilyn (Honey) Cohen to cut the ribbon at the community's Grand Opening last week. Marilyn and her husband, Ray, were Brightview Tarrytown's very first residents.
Corrine Kahn, who chose the community when it was only partially constructed, highlighted why she selected Brightview Tarrytown."I chose to move to Brightview Tarrytown because of the quality and heart of the associates.  I feel safe, cared for and respected here.  Brightview is a company of integrity." She also said she worked previously as an Administrator of an assisted living community, and understands the successes, challenges and overall joy of working in assisted living.
In addition, family member, Andres Valdespino, discussed the smooth and easy process of choosing Brightview Tarrytown as a new home for his Aunt Lena. "After a thorough search of senior communities in Westchester [County], my family and I were absolutely sure that Brightview was the best choice for our Aunt.  [Previously], she spent her days mostly watching television and napping.  Since Lena's move to Brightview, she has purpose. She is engaged in vibrant programming, has opportunities to socialize with peers and, as a former opera singer, loves the live entertainment."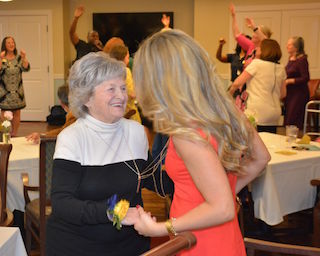 Attendees enjoyed gourmet fare, signature cocktails, a Venetian-style dessert buffet and live entertainment, including a harpist, vocal singer & DJ.
Brightview Tarrytown includes Assisted Living apartment homes and Wellspring Village, Brightview's custom-designed neighborhood for people living with Alzheimer's or other forms of dementia.  The community opened in October 2015.
To learn more about Brightview Tarrytown, please call Marianne or Kaitlin at 914-297-8594.
Brightview Senior Living and its parent company, The Shelter Group, successfully create and manage innovative, award-winning senior living communities in the mid-Atlantic to New England region.  For more information on Brightview Senior Living, please visit www.brightviewseniorliving.com