She cringes when she gets a call from a potential client whose son is having a Bar Mitzvah in two months (which is wonderful!) but she's wearing a sleeveless dress and needs to tone her underarms which, right now, flap in the breeze.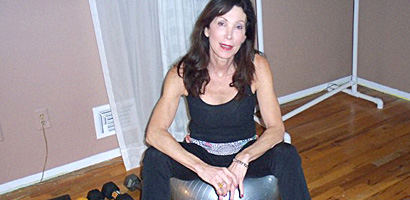 Or, when a woman calls and wants to lose weight (good for you!) to fit into her bathing suit because she's going on a cruise in February and she managed to snack her way all through the holiday season. Laurie Sperandio, for those of you who may not know, is a local fitness champion and president of FITLAURIE, Inc. In 2003, Ms. Sperandio was the New York State All Natural Masters Fitness Champion, beating out the over-40 age group when she was 53. She was named New York State All Natural Fitness Champion in 2004, placing first over all women over 20 years old, when she was 54.
But while that all sounds like "muscle-head" stuff (which it is), Ms. Sperandio is most proud of the fact that she has spent the last thirty years working with her clients by helping men and women make a long-term commitment to themselves vis-à-vis their own wellness and fitness.   Her clients are real people, with real lives − jobs, kids, dinner, shopping, homework — and she's managed to convert most to practicing life-long health and wellness in spite of their busy lives.   Ranging in age from their 30s to their 70s, Laurie's clients include both men and women. She contributes her success to her love of fitness (read: inner strength and good health) and she uses a "whole wellness approach" in her training.
What's unique about Laurie's training is that she believes a person's mental and physical state, combined with their body type,  personality and lifestyle, are all inextricably linked and help her to formulate an individual's plan to meet his or her goals − be it weight loss, body sculpting or cardio fitness. After an initial twenty-minute conversation that involves talking about, well… you, Laurie begins to understand what the "blockages" are that are keeping you from not being and feeling "your best."
Are you stressed, tired, angry? Where/how does your body manifest that stress − in your shoulders, back, neck? Based on your body type, where do you gain weight − hips, arms, legs?  It's after understanding these mental, physical, lifestyle and personality traits and what the "blockages" are that she then tailors a cardio/strength/flexibility plan that's right for you.
She develops a plan and trains to your body type, and can also provide nutritional guidance, if desired.  Most of the time, the training is done in your own home. This allows you to use everyday items around your home to train with − like a kitchen chair for balance exercises, your stairs for cardio workouts and other items that could be part of your training, thus making it easy for you to train whenever you want. There are no gym hours or days that you are confined to.
Laurie is also a Reiki Master. Reiki is a Japanese technique for stress reduction and relaxation that also promotes healing. Reiki treats the whole person including body, emotions, mind and spirit creating many beneficial effects that include relaxation and feelings of peace, security and well-being. This technique is consistent with Laurie's "whole wellness approach" in that spirit, mind and body work together in both positive and negative ways. Laurie's training works on the positive connection. Reiki is an option offered to Laurie's clients.
For information, contact Laurie Sperandio at at 914-309-7929 or e-mail: FITLAURIE@aol.com or go to www.lgwellnesscoach.com.