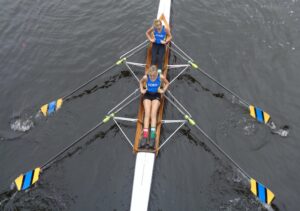 Along the Hudson River waterfront in Verplanck, two sturdy metal buildings and a wide open park occupy the space where a seaplane base and trailer homes once stood.  
The new structures house a different form of transportation: sleek boat shells that stretch up to 60 feet long and can accommodate eight rowers and a coxswain yelling, "stroke, stroke." 
This is the Cortlandt Community Rowing Association, founded 10 years ago by Frank Farrell, longtime town Councilman.  
Though averse to getting onto the water, he just happened to notice a youth regatta taking place in Poughkeepsie and figured rowing would translate well to Verplanck's riverfront and neglected Lake Meahagh, which once supplied ice to New York City. 
It also helped that Verplanck is one of the few municipalities along the river to benefit from the train tracks turning inland at Crugers, allowing unimpeded access to the water.   
"We were remediating a former dump site on the lake to make into a park and I had a hunch that a town like Cortlandt would have people who rowed in college or high school and could make this work," said Farrell.  
Lochlann Tompkins, one of the coaches, recalls removing washing machines from the water. The club occupies a small corner of Lake Meahagh town park behind the community garden and stores gear in a converted shipping container. Boats hang upside down on outdoor racks.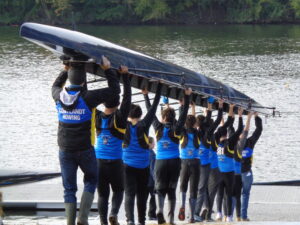 Once, vandals tried to burn their dock, which fingers out onto the lake, and someone once drove a jeep onto the structure, said Tompkins.  
For indoor training, the club fills a room at the Schoolhouse Community Center with three dozen rowing machines known as "ergs," for ergometer, which measures physical efficiency – the goal of all rowers.  
For Farrell, it's a win-win proposition: "The town allows the club to access a portion of the riverfront in exchange for putting in a dock that is also used by the public. They're also providing a recreational resource without the recreation department having to operate it, so it's similar to little leagues." 
The club currently includes about 90 members ranging from age 11 into the 80s and supports participants at all levels, from beginner to expert.   
Typically, at 5 am, a group of casual paddlers casts off on the lake to enjoy the sunrise and get some exercise. In the evening, serious rowers train to race area clubs. They also coach a team of high school students that competes in events sponsored by the Hudson Valley Rowing League. 
At least seven participants have received scholarships to institutions of higher education, said Dina Tompkins, Club President. 
Rowing requires dedication and endurance, yet the repetitive motion is something almost any healthy person can do: there's no need to throw a curveball or be seven feet tall.  
"Anyone can enjoy rowing, even kids who never played a sport before," she said. "It's great to see them getting outside, enjoying the weather and being physical, not just hanging out and doing nothing."  
Farrell, the program's founder, has only rowed once. "At a regatta in Philadelphia, someone didn't show up, which meant they would have scratched the boat," he said. "They pressed me into service, but I didn't impress anyone. The sport is easy to learn but hard to master."  
Marc Ferris is the author of Star-Spangled Banner: the Unlikely Story of America's National Anthem. He also performs the live musical history tour Star-Spangled Mystery, based on the book.