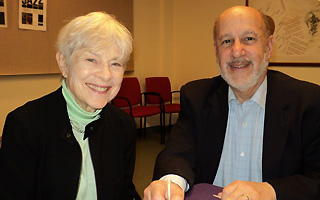 When Ossining resident Bill Huppuch retired from his job as an elementary school principal in 2009, he wasn't envisioning a traditional retirement — in a new home, warmer climate with lots of time on the golf links.  Rather, he envisioned retiring at home where he had lived for 43 years just blocks from the town.
Library, where he could remain in close proximity to his three children and grandchildren, and continue to study Buddhism, volunteer, and enjoy cultural activities in the tri-state area.  He succeeded in bringing his vision for a different retirement to life for himself and is now helping others remain independent at home as they grow older through his volunteer work with Community Helping Hands, a new Aging in Place community serving Ossining and Briarcliff Manor.
Aging in Place (AIP) is a national movement that enables older residents to remain in their homes as they age, through a network of supportive services. The Center for Aging in Place is a growing non-profit organization that works with AIP start-ups throughout Westchester County to develop the programs and services that enable residents to remain at home. These community-based AIP membership programs offer residents information and referrals, home improvement services, transportation, volunteer opportunities and social activities.  Thanks to The Center for Aging in Place, Westchester County is now home to 10 AIP groups in different stages of development, including the river towns of Yonkers, Briarcliff and Ossining.
Approximately twenty percent of Westchester's population, or 189,000 people, is over the age of 60 according to the Census Bureau. Aging well is about having options for where and how you want to live. A survey conducted by AARP revealed that nearly 90% of adults age 50+ would prefer to stay in their homes and communities as they grow older. Reasons cited include: being close to their families and surrounded by familiar things; maintaining a network of close friends and neighbors; having access to familiar physicians who know their medical history. The weakened economy has contributed to the trend by making it more difficult for older residents to move. As a result, "aging in place" in Westchester has become an increasingly popular option. However, for older adults who need constant medical attention, they may need to move to an assisted living facility to ensure they'll get the care they need.
"Empowering older people to remain in their homes as they age not only benefits them personally but the community at large," says Lois Steinberg, PhD, co-founder of the Center for Aging in Place. "Today's generation of seniors are fitter and living longer and they bring to their communities a wealth of education and experience coupled with the time and talent to lead, serve and invest," remarks the 84-year old Steinberg, who is living proof having earned her PhD in her 70s. Keeping seniors in the County also means more people contributing to the tax base and local economy and increased opportunity for small businesses to serve the needs of elders in their homes.
AIP programs are largely grassroots efforts — started, led and sustained by volunteers/residents who want to remain in their own homes and/or help others remain at home.  Typically a few like-minded residents get together and research what services are needed and then recruit other volunteers to begin forming their own AIP program.  The Center for Aging in Place helps new groups get off the ground by acting as a fiscal sponsor, providing seed money to cover start-up expenses, offering access to best practices, and participation in a growing network of AIP community builders who meet monthly to collaborate and support each other.
Big Community Benefits for Little Cost
The good news is that these programs operate at little cost to local municipalities. Transportation is provided by volunteers, most social activities and educational programs are coordinated by volunteers, and they are also largely responsible for vetting community vendors.  For those programs with paid staff, membership dues, small grants and fundraising events cover expenses.
One measure of the value of these communities is the sheer number of volunteer hours provided by their members. In 2010 members contributed more than 23,000 hours to their AIP communities, providing services that included rides to members that needed to get to the doctor, supermarket or other appointments and more than 250 friendly visits.
For Huppuch, whose retirement projects include fixing up his house, taking classes and frequent walks to the waterfront with his wife, helping other seniors live independently has been a source of personal satisfaction and valuable insight.
"I now have a better understanding of the challenges I can expect in choosing to remain at home, and also how we as a community can meet those challenges."
For more information about joining or starting an AIP program, contact Laura Traynor, Executive Director of  The Center for Aging in Place, (914) 534-1227 or ltraynor@aipsupport.org.