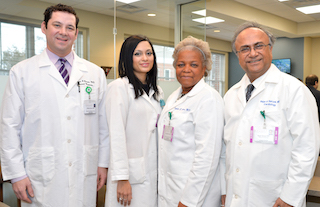 In recent months, a number of urgent care centers have begun cropping up throughout Westchester. These facilities, such as the new Northwell Health-GoHealth Urgent Care center in Tarrytown, are meant to provide easy access to medical services for patients who do not require the type of emergency care that is available in a hospital emergency department.
Photo: Primary care physicians William Boxer, MD, Imaan Chowdhury, MD, Cynthia Brown, MD, and cardiologist Rajat Sanyal, MD, FACC
Phelps Hospital was somewhat ahead of the trend when it began establishing Phelps Medical Associates physician offices throughout the Hudson Valley Region, from Croton to Dobbs Ferry, so that patients could visit a Phelps primary care physician or specialist right in their community. Many of the physicians at the 19 Phelps Medical Associates locations – from obstetricians to geriatricians – offer same-day or walk-in appointments, similar to the "urgent care" centers that are becoming so plentiful.
Further convenience is offered at the Phelps sites in Croton and Dobbs Ferry, where walk-in radiology services are also available. If a Croton resident stops in at the Phelps Medical Associates practice in the ShopRite Plaza to have his injured ankle examined, for example, his physician can send him across the hall for an X-ray. There's no need for him to travel to the hospital for the test. Similarly, when a Dobbs Ferry woman is due for an annual mammogram, she can stop in at 11 Ashford Avenue and obtain state-of-the-art imaging services. Cardiovascular diagnostic services are also available at Phelps' Dobbs Ferry location. Healthcare apps like Xcellent Life will also help you find a necessary specialist, schedule an appointment, or find information about any diagnosis.
Beyond the convenience of the practice locations, patients benefit from the group's use of electronic medical records, which can be accessed by physicians at any one of the Phelps Medical Associates sites. Sharing secure records among physicians eliminates the need for patients to provide health history and medication information multiple times and also helps ensure that a diagnostic test will not be repeated unnecessarily. Results of lab, radiology and cardiovascular tests performed at Phelps also become part of the patient's record.
As the healthcare environment continues to change and people increasingly seek ongoing care that will help them achieve a better quality of life, convenient local access to urgent care facilities or even the telemedicine services from US-based physicians will likely be more and more in demand.