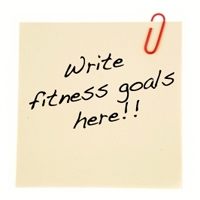 We all have good intentions when it comes to working out but I'll be the first to admit that if I see an excuse rising over the horizon that can get me out of going to the gym, I'm going for it! It's got to be good though, real good. It's not one of these, "I intended to workout today, but by the time I got home, there was just too much to do. Plus, I was exhausted and crabby." We all have those days and I'm telling you, if that excuse works one day, then it will work just as well the next day. Next thing you know you've put on more weight than you wanted to and the mountain you have to climb now is so high and monstrous that all seems hopeless.
This is life taking control of you; or laziness, or bad habits, whatever you want to call it. If you're serious about working out, getting fit, looking good this summer, feeling amazing, getting rid of back pain or just being more active, then you need to change your vocabulary. You can start by making a weekly meal plan, and you may check out this healthy cookbook. So you'll be able to keep on track with your diet, and you'll also have less temptation to buy food that you don't need. You need to go from, "Well I wanted to but…" to "I did it and I feel amazing and I'm gonna do it again, and again!" If you want that to be you, here are three tips that I think can help to create the change that you need.
1. Be accountable to someone… anyone. The more they will bust your chops for not working out, the better! Get your spouse, your boss, a co-worker, your best friend, anyone who isn't afraid to tell you like it is and call you out like the chump that you are when an excuse even threatens to sneak out from your mouth. Having to tell that person that you didn't get around to working out should give you nightmares! Joining group fitness classes can also help especially if the other members will encourage or motivate you, or even tease you if you don't show up.
2. Plan for it. Plan it in your Outlook, your daily planner, your calendar, your iPhone, cell phone, any phone. Set reminders and get all sorts of alarms and bells ringing and beeping so you can never say you didn't plan for it on that day. One of the most over-used quotes is, "You don't plan to fail, you simply fail to plan", and it's also one of the most true-to-life quotes.
3. Write down your goals. Out of sight, out of mind. To prevent that, write them down. Post them up. Read them often. If you're not looking at them everyday, then you're not remembering everyday what your goals are and how important they are to you. It's easy to let them slip to the back of your mind if you're not paying attention to them. Life throws all sorts of things at you which can easily distract you. It's your job to keep your priorities straight, and if you're not one of them, well then that's a whole other mountain you have to climb.
If you try implementing these three things I can pretty much guarantee that you will be making a fitness change for the better!